Handbook of Military Psychology
ISBN: 978-0-471-92045-8
812 pages
April 1992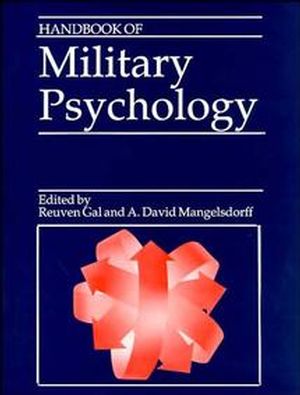 Handbook of Military Psychology Edited by Reuven Gal, The Israeli Institute for Military Studies, Zikhron, Ya'akov, Israel, and A. David Mangelsdorff, Health Services Command, Fort Sam Houston, USA With a Foreword by Edgar M. Johnson Section editors Friedrich W. Steege Paul R. Chatelier and Earl A. Alluisi Gerald P. Krueger T. O. Jacobs A. David Mangelsdorff Robert S. Nichols Reuven Gal The Handbook of Military Psychology describes the scope of military psychology and how the branches of psychology are applied in military settings, the similarities and differences within multinational and multi-service settings, the historical basis for the development and application of psychological principles in multi-service military settings, and the ongoing research and applications of military psychology. The volume editors have brought together a distinguished team of authors, under the leadership of section editors, who examine all areas in the field of military psychology--assessment; leadership; human factors; environmental factors; individual and group behavior; clinical and organizational applications; and special groups and special issues. The chapters include an up-to-date overview of the given subject, a historical review of the field, a critical analysis of the applications, and an extensive bibliography. The military must evaluate large numbers of people, screen out the unfit, select individuals with needed abilities, and place people in the jobs most appropriate both to their skills and to military needs. Military personnel, of all sorts, must be trained and prepared for warfare. Individuals have to be led and motivated and units must maintain high morale and cohesion in order to achieve their missions. Furthermore, military missions are frequently carried out under most stressful conditions and usually require strenuous adjustment between human capabilities and weapon-systems' peculiarities. These characteristics of military organization all have their psychological aspects. This comprehensive handbook will be an essential tool for military psychologists, trainers and leaders dealing with these aspects. It will also be of interest to both practitioners and researchers working in the field of occupational and industrial psychology, and for those working in personnel management. From a pre-publication review 'The Handbook of Military Psychology will be recognised as the standard work in this field.' John Keegan
See More
Partial table of contents:

SELECTION, CLASSIFICATION AND PLACEMENT IN MILITARY SERVICES.

Psychological Assessment and Military Personnel Management (F. Steege & W. Fritscher).

Spatial Ability and Orientation of Pilots (L. Boer).

HUMAN FACTORS AND MILITARY PERFORMANCE.

Overcoming the Effects of Stress on Military Performance: Human Factors.

Training and Selection Strategies (J. Driskell & E. Salas).

ENVIRONMENTAL FACTORS AND MILITARY PERFORMANCE.

Effects of High Terrestrial Altitude on Military Performance (L. Banderet & R. Burse).

Military Performance in Sustained Acceleration and Vibration Environments (H. von Gierke, et al.).

LEADERSHIP IN MILITARY PERFORMANCE.

Executive Leadership (T. Jacobs & E. Jaques).

INDIVIDUAL AND GROUP BEHAVIOR.

Morale.

Cohesion and Esprit de Corps (F. Manning).

Cultural and Societal Factors in Military Organizations (S. Labuc).

CLINICAL AND CONSULTATIVE/ORGANIZATIONAL PSYCHOLOGY.

Psychotherapy and Behavior Change (T. O'Hearn).

Consultation in a Military Setting (J. Lenz & B. Roberts).

SPECIAL SUBJECTS AND SPECIAL SITUATIONS.

Hostage Negotiation: Issues and Applications (G. Fuselier).

Index.
See More
REUVEN GAL, previously chief psychologist of the Israeli Defense Forces, has also served as a combat officer in the IDF and retired with the rank of colonel. He received his BA and MA degrees in psychology at the Hebrew University in Jerusalem, and his PhD from the University of California, Berkeley. Dr Gal has served as a senior research associate at Walter Reed Army Institute of Research in Washington DC and as a visiting professor in military education at Boston University. He is currently the director of the Israeli Institute for Military Studies, and teaches military psychology at the IDF s Staff and Command School. He has published articles on behavior under stress, military psychology, heroism in combat, and related subjects in many academic journals, and has published three previous books in the area of military psychology.
A. DAVID MANGELSDORFF received his BA from Dartmouth College, MA and PhD degrees in psychology from the University of Delaware, MA in English from St. Mary s University of San Antonio, Texas, and an MPH degree from the University of Texas School of Public Health. He is a fellow of both the American Psychological Association and the American Association for the Advancement of Science. Dr Mangelsdorff is an adjunct professor at the University of Texas School of Public Health and a clinical assistant professor of family practice at the Uniformed Services University of the Health Sciences. He serves as associate editor (clinical/health) for the journal Military Psychology and on the editorial board of the Journal of Traumatic Stress. His research areas include stress, disasters, health psychology, and retention factors. He remains active in the Army reserves as the psychology staff officer for Headquarters, Health Services Command.
See More