International Review of Health Psychology, Volume 1
ISBN: 978-0-471-92754-9
240 pages
November 1992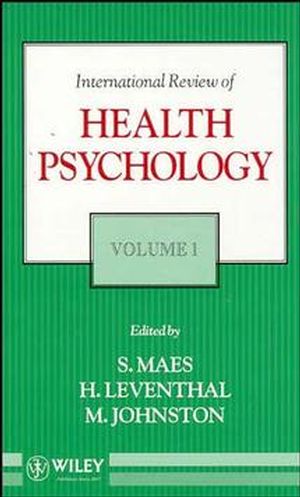 International Review of Health Psychology Volume 1 Edited by S. Maes, Leiden University, The Netherlands, H. Leventhal, Rutgers University, USA and M. Johnston, University of St Andrews, Scotland The aim of this new annual series on health psychology is to provide practitioners, lecturers, graduate students and researchers working in the field of health psychology and related disciplines with a stimulating and useful overview of the field. Review type chapters covering the following areas of health psychology will be published: general concepts and methodology; health behaviour and health promotion; illness behaviour and health care; practical and professional issues. This first volume contains contributions from different parts of the world on "Gender and health", "Self-assessed health and mortality", "Stress and coronary heart disease", "Childhood obesity", "Health promotion at the worksite", "Chronic diseases in childhood", "Doctor-patient communication", "Health psychology in Africa" and "Health psychology in Australia". The selection of topics for this first volume represents the international perspective of this new series.
See More
Partial table of contents:

GENERAL CONCEPTS AND METHODOLOGY.

Gender and Health (D. Reddy, et al.).

Self-Assessed Health and Mortality: A Review of Studies (E. Idler).

HEALTH BEHAVIOR AND HEALTH PROMOTION.

The Management of Stress in the Prevention of Coronary Heart Disease (D. Johnston).

Conservative Treatment of Childhood and Adolescent Obesity (V. Brezinka).

ILLNESS BEHAVIOR AND HEALTH CARE.

Psychological Consequences of Chronic Disease in Children (C. Eiser).

Doctor-Patient Communication: An Interpersonal Helping Process (H. Winefield).

PRACTICAL AND PROFESSIONAL ISSUES.

Health Psychology in Africa (South of the Sahara) (K. Peltzer).

Australian Health Psychology (N. Owen & B. Oldenburg).

Index.
See More
About the editors Stan Maes is professor of health psychology at Leiden University, The Netherlands. He is a clinical psychologist and is president elect of the Health Psychology Division of the International Association of Applied Psychology. He is also founder of the European Association of Health Psychology. Professor Maes has published three books and over 50 journal articles on health education, doctor-patient relationship and psychological aspects of various medical diseases. Harold Leventhal is research professor of psychology at the Institute for Health, Rutgers University, a fellow of AAAS, APA Divisions 8 and 38, and a recipient of Division 38's Senior Investigator Award and the Distinguished Alumni Award of the Psychology Department of UNC, Chapel Hill. He has published over 170 articles and chapters, chaired the NIH Behavioral Medicine Study Section, and was associate editor of Health Psychology. Marie Johnston is reader in psychology at the University of St Andrews, Scotland, and is a clinical psychologist. She was the first chair of the Health Psychology Section of the British Psychological Society and is president elect of the European Health Psychology Society. Dr Johnston is the editor of Stress and Medical Procedures (1990) and Applications in Health Psychology (1990) and has published articles on coping with medical procedures and chronic disease.
See More