European Review of Social Psychology, Volume 2
ISBN: 978-0-471-92999-4
340 pages
April 1992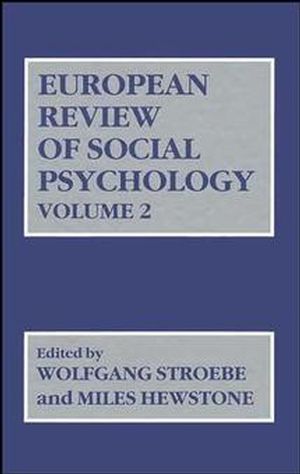 European Review of Social Psychology Volume 2 Edited by Wolfgang Stroebe, University of Tubingen, West Germany and Miles Hewstone, University of Bristol, UK The European Review of Social Psychology is an annual series that reflects the dynamism of social psychology in Europe and the attention now paid to European ideas and research. Although open to authors from all nations, one of its major purposes is to further the international exchange of ideas by providing an outlet for substantial accounts of theoretical and empirical work that has not been previously published in English. With the help of an editorial board consisting of senior scholars from various European countries and the United States, the editors will invite outstanding researchers to contribute to these volumes. The emphasis of these contributions will be on critical assessment of major areas of research, and substantial individual programmes of research as well as on topics and initiatives of contemporary interest and originality. The authors of this second volume are drawn from Europe and the United States. They represent the international scope and quality which the editors intend should become the hallmarks of this series.
See More
The Linguistic Category Model, Its Bases, Applications and Range (G. Semin & K. Fiedler).

Context Effects in Attitude Surveys: Applying Cognitive Theory to Social Research (N. Schwarz & F. Strack).

A Conversational Model of Causal Explanation (D. Hilton).

How to Make Cognitive Illusions Disappear: Beyond ``Heuristics and Biases'' (G. Gigerenzer).

Logical, Statistical, and Causal Reasoning: Compartmentalized or Generic Processes?

(Y. Klar).

Greed, Efficiency and Fairness in Resource Management Situations (H. Wilke).

Intergroup Biases and the Cognitive Dynamics of Stereotype Formation (A. Maass & M. Schaller).

Social Categorization and the Representation of Variability Information (B. Park, et al.).

The Different Effects of Simple and Crossed Categorizations: A Result of the Category Differentiation Process or of Differential Category Salience?

(N. Vanbeselaere).

Social Psychological Issues in the Study of Rape (B. Krahe).

Author Index.

Subject Index.
See More
About the editors-- Wolfgang Stroebe has published widely on the topics of attitudes, psychology and economics, group processes, intergroup relations and bereavement. He has been President of the European Association of Experimental Social Psychology and is currently Professor of Psychology at the Universitat Tubingen and editor of Psychologische Rundschau. Miles Hewstone has published widely on the topics of attribution theory and intergroup relations. He was awarded the British Psychological Society's Spearman Medal in 1987 and was a Fellow at the Center for Advanced Study in the Behavioral Sciences, Stanford, California. He is currently Reader in Social Psychology at the University of Bristol.
See More