Selection, Preparation and Pharmacological Evaluation of Plant Material, Volume 1
ISBN: 978-0-471-94217-7
238 pages
July 1996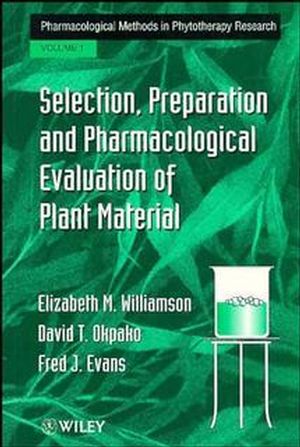 Laboratory protocols for pharmacological investigation of plant material
Pharmacological Methods in Phytotherapy Research, Vol. 1: Selection, Preparation, and Pharmaceutical Evaluation of Plant Materials provides invaluable reference for anyone working with medicinal plants. Clear protocols detail methods for selection and extraction of plant material, as well as pharmacological investigation and presentation of results. Organized by therapeutic area, coverage includes methods for investigation of compounds relating to the gastrointestinal tract, respiratory system, nervous system, cardiovascular system, and more, with special guidance toward anti-inflammatories, analgesics, and diabetes mellitus.
See More
The Use of Plant Remedies in Indigenous Medical Systems.

Presentation of Results.

Preparation of Plant Material.

The Gastro-Intestinal Tract.

The Liver and Biliary System.

The Cardiovascular System.

The Respiratory System.

Anti-Inflammatory and Analgesic Activity.

Diabetes Mellitus.

The Nervous System.

Endocrine Activity: Antifertility and Sex Hormones.

Appendices.

Index.
See More