Textbook
Information, Organization and Management: Expanding Markets and Corporate Boundaries
ISBN: 978-0-471-96454-4
472 pages
August 1997, ©1997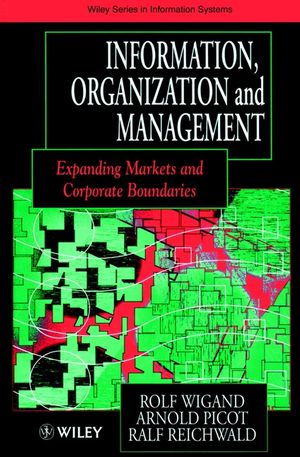 Amidst the accelerating change of an increasingly competitive global market, Information, Organization and Management demonstrates how business success in the global market place depends upon products and services rich in variety, value and instantly responsive to customer needs. This strengthening of the buyer's position has turned customer service into an important decisive factor for a corporation's market success. Competitive strategies must therefore re-evaluate the business-management goals of flexibility, time, quality and cost.
See More
Information, Organization and Management: Toward the Boundary-less Organization.

Market Dynamics and Competition: The Fundamental Role of Information.

Fundamental Information and Communication Models: Insights into Communication and Information Behavior.

The Potential of Information Technology in Developing the Market-driven Organization.

Dissolution of Hierarchies: Modularization of Corporations.

Dissolution of Corporate Boundaries: Symbioses and Networks.

New Forms of Market Coordination: Electronic Markets.

Overcoming the Boundaries of Location: Telecooperation and Virtual Enterprises.

Rediscovering People as Resources: Improving Human Performance in Organizations.

References.

Index.
See More
Rolf Wigand is Director of the Graduate Program in Information Resources Management at Syracuse University, New York. He researches and teaches in information management, strategic use of IT, electronic commerce, tele-communications and information policy. Arnold Picot of Lugwig-Maximilians University in Munich is head of the German Association of Professors in Business Administration and the German Economic Association. Ralf Reichwald holds the chair for General and Industrial Business Administration at the Technical University of Munich.
See More