Implementing Derivative Models
ISBN: 978-0-471-96651-7
330 pages
June 1998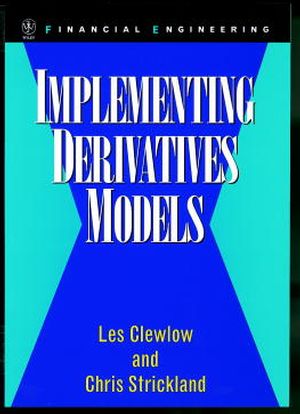 Implementing Derivatives Models Les Clewlow and Chris Strickland Derivatives markets, particularly the over-the-counter market in complex or exotic options, are continuing to expand rapidly on a global scale, However, the availability of information regarding the theory and applications of the numerical techniques required to succeed in these markets is limited. This lack of information is extremely damaging to all kinds of financial institutions and consequently there is enormous demand for a source of sound numerical methods for pricing and hedging. Implementing Derivatives Models answers this demand, providing comprehensive coverage of practical pricing and hedging techniques for complex options. Highly accessible to practitioners seeking the latest methods and uses of models, including
* The Binomial Method
* Trinomial Trees and Finite Difference Methods
* Monte Carlo Simulation
* Implied Trees and Exotic Options
* Option Pricing, Hedging and Numerical Techniques for Pricing Interest Rate Derivatives
* Term Structure Consistent Short Rate Models
* The Heath, Jarrow and Morton Model
Implementing Derivatives Models is also a potent resource for financial academics who need to implement, compare, and empirically estimate the behaviour of various option pricing models. Finance/Investment
See More
The Binomial Methods.

Finite Difference Models.

The Monte Carlo Method.

Implied Trees .

Yield Curve Fitting Trees.

Applications to Exotic Options.

Conclusion.
See More
Les Clewlow and Chris Strickland both hold positions at the Financial Options Research Centre, Warwick University, UK, at the School of Finance and Economics, University of Technology Sydney, Australia, and the Instituto de Estudios Superiores de Administración, Caracas, Venezuela. They are also both principals of Lacima Consultants specialising in derivatives pricing and risk management education and software.
See More