Glow Discharge Optical Emission Spectrometry
ISBN: 978-0-471-96683-8
888 pages
December 1997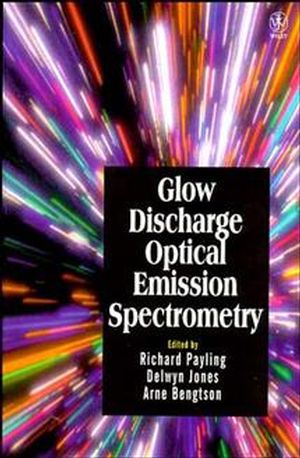 Glow Discharge Optical Emission Spectrometry (GD-OES) is rapidly becoming one of the most important techniques for the direct analysis of solids. This, the first book entirely devoted to the subject, represents the combined contributions of over 30 specialists from around the world. All contributors are active in the field and recognised internationally for their expertise and knowledge in GD-OES. The book begins with an introductory overview of the subjects, deals with the design of the instrument, its operation and analytical methods and describes in detail the complex plasma processes which occur inside the glow discharge source. The second part of the book is more practically orientated, showing the full range of uses for GD-OES from the bulk analysis of virtually any solid material to depth profiling within the first tens of micrometres of a variety of surfaces and coatings. Glow Discharge Optical Emission Spectrometry is intended for a wide audience of scientists, engineers and postgraduate students and will be a valuable and challenging reference work for both experienced users of the technique and newcomers alike.
See More
Glow Discharge Sources.

Instrumentation and Operation.

Direct Current Discharge.

Radio Frequency Discharge.

Sputtering.

Crater Effects and Depth Resolution.

Optical Emission.

Bulk Analysis.

Quantitative Depth Profiling.

Applications of GD-OES to Bulk Analysis.

Applications of GD-OES to the Depth Profiling of Metallic Coatings.

Applications of GD-OES to Reactive Diffusion.

Other Applications of GD-OES to Depth Profiling.

Comparison with Other Techniques.

Appendices.

Bibliography.

Units, Conversions and Constants.

Index.
See More