Polymer Recycling: Science, Technology and Applications
ISBN: 978-0-471-97054-5
614 pages
September 1998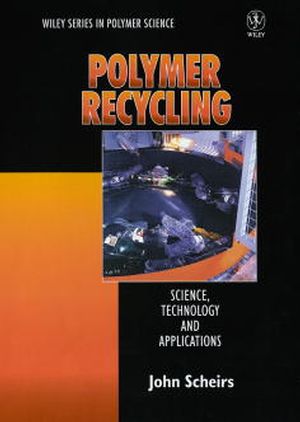 Provides an overview of state-of-the-art recycling techniques together with current and potential applications.
* Presents material that is normally only available in the form of conference proceedings
* Includes flow charts detailing the recycling process
* Helps identify the problems encountered in the recycling of polymers
* Presents pie graphs and photographs of commercial outlets
A comprehensive volume which will prove to be invaluable for polymer manufacturers, recyclers and marketers as well as environmental authorities and materials engineers.
See More
Sorting and Separation Techniques.

Size Reduction of Recycled Plastics.

Melt Filtration of Contamination in Recycled Polymers.

Recycling of PET.

Recycling of Polyolefins.

Recycling of PVC.

Polystyrene Recycling.

Nylon Recycling.

Recycling of Engineering Thermoplastics.

Recycling of Polyurethanes.

Recycling of Polymers Composities.

Rubber Tyre Recycling.

Feedstock Recycling--Pyrolysis, Hydrogenation and Gasification.

Incineration of Plastic Waste with Energy Recovery.

Plastics Lumber Based on Recycled Polymers.

Index.
See More