Diet, Nutrition & Chronic Disease: Lessons from Contrasting Worlds
ISBN: 978-0-471-97133-7
318 pages
July 1997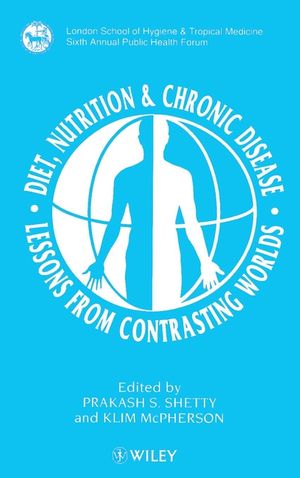 This book summarises the current state of the art of our understanding of the problem of non-communicable diseases and their primary prevention. It aims to increase international awareness of the global burden of non-communicable diseases and in particular to highlight the trends in developing countries; evaluates the impact of changes in diet, nutrition and lifestyle that predispose to chronic non-communicable diseases in modern societies; shares knowledge of the growing problems on non-communicable diseases and experiences related to its prevention between health professionals of developing and developed countries; identifies and prioritises major research issues and suggest strategies to deal with the global epidemic of chronic non-communicable diseases.
See More
Overview of Diet-Related Non-Communicable Diseases.

Prenatal Influences on Disease in Later Life.

Cardiovascular Disease and Diabetes in Migrants -
Interactions Between Nutritional Changes and Genetic Background.

Inequalities in Diet and Health

Dietary Fats and Non-Communicable Diseases.

Diet and Large Bowel Cancer.

Interactions Between Diet and endogenous Hormones: Possible Role in Breast Cancer

Assessing the Net Effect of Alcohol Consumption on Mortality.

The Public Health Impact of Globalisation of Food Trade

Some Aspects of Norwegian Nutrition and Food Policy

Symposium: The Burgeoning Global Burden of Obesity.

Workshop Reports

Diet, Lifestyle and Chronic Disease: Lessons From Contrasting Worlds.

Where Do We Go From Here in Public Health?

Index.
See More
"This book represents a well organized and edited report of the Sixth Annual Public Health Forum.... Surely, [the Forum] and this book...borrowing a sentence from the preface, have 'given a significant contribution to the...acceleration of action that is required to counter and reverse...diet-related NCD.'" (European Journal of Public Health, Vol. 9, No. 1, 1999)
See More