International Review of Industrial and Organizational Psychology, 1998 Volume 13
ISBN: 978-0-471-97722-3
200 pages
June 1998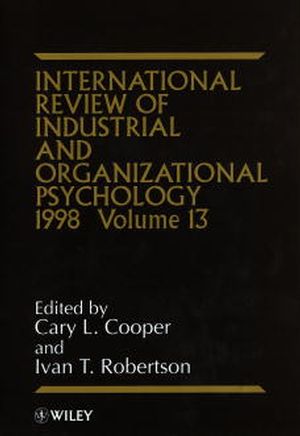 This is the thirteenth in a series of annual volumes which provide authoritative reviews in the field of Industrial and Organizational Psychology. The chapters are written by established experts and the topics are carefully chosen to reflect the major concerns in the research literature and in current practice. Each chapter offers a comprehensive and critical survey of a chosen topic, and is supported by a valuable bibliography. Topics for future volumes in the series will be selected for their importance and relevance at that time, so that the series will be the main authoritative and current guide to important areas and developments in the field of Industrial and Organizational Psychology, for professional psychologists, managers and scholars.
See More
Team Effectiveness in Organizations (M. West, et al.).

Turnover (C. Maertz & M. Campion).

Learning Strategies and Occupational Training (P. Warr & C. Allan).

Meta-Analysis (Y. Fried & J. Ager).

General Cognitive Ability and Occupational Performance (M. Ree & T. Carretta).

Consequences of Alternative Work Schedules (C. Daus, et al.).

Organizational Men: Masculinity and Its Discontents (R. Burke & D. Nelson).

Women's Careers and Occupational Stress (J. Langan-Fox).

Computer-Aided Technology and Work: Moving the Field Forward (A. Majchrzak & B. Borys).

Index.

Contents of Previous Volumes.
See More
More in this series