Brand Spirit: How Cause Related Marketing Builds Brands
ISBN: 978-0-471-98776-5
306 pages
June 1999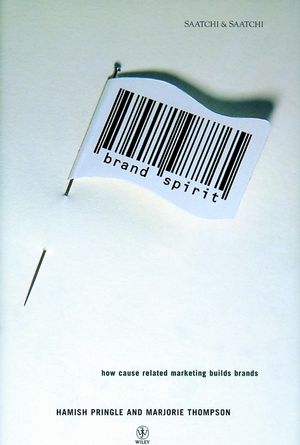 The only guide to understanding and making the most of one of the hottest trends in branding today
Nothing builds brand loyalty among today's increasingly skeptical, hard-to-please consumers like a proven commitment to a worthy cause on the part of a company. Known as Cause Related Marketing (CRM), this approach to branding has gained a great deal of momentum over the past decade, thanks, in no small part, to such recent, notable examples as McDonald's commitment to saving the rain forests and BMW's breast cancer fund-raising initiatives. Now, in the first book to explore the business benefits of CRM and its positive and negative impacts on business strategy, two experts explain the concept and fundamental principles of CRM and its place within the contemporary discourse on branding. And, with the help of numerous, fascinating, and instructive case studies, they demonstrate how marketers can harness the power of CRM to position and enhance customer loyalty to a brand, product, or service.
See More
CAUSE RELATED MARKETING.

Cause Related Marketing Defined.

THE PRE-CONDITIONS FOR CAUSE RELATED MARKETING.

The Commodity Threat and the Importance of Loyalty.

Communications Clutter and Expert Consumers.

Maslow's Hierarchy of Needs and the Loss of Trust.

The Diana Effect and the Opportunity for Brands.

THE THIRD WAVE IN BRANDING.

Brands and Anthropomorphy in Branding.

The Three Waves in Branding.

The Power of Belief Systems.

THE ESSENTIALS OF CAUSE RELATED MARKETING.

Differentiating CRM from 'Charity Promotions'.

The Nature of Giving.

Making a Commercial Case for CRM.

Charity or Cause?

CREATING A CRM CAMPAIGN.

Preliminary Stages in Developing a CRM Campaign.

Establishing the 'Territory'.

Developing a CRM Concept.

Creating a CRM Campaign.

Crystallizing a CRM Campaign.

Media Neutrality and Corporate Body Language.

CRM and the Digital Revolution.

Measurement.

GETTING DOWN TO IT.

Implementing CRM on a Grand Scale.

Implementing CRM on a Smaller Scale.

CRM's PAST AND FUTURE.

Charity Culture.

Victorian Paternalism to 20th Century Philanthropy.

The Company Town.

'Nanny State' to 'Stakeholder Society'.

The Millennium Effect.

Closing Ethos Quote.

Index.
See More
MARJORIE THOMPSON is Director of Saatchi & Saatchi Cause Connection. Prior to this she was Communications Director of the Commission for Racial Equality. Previously she was Chair of the Campaign for Nuclear Disarmament and has been an advisor to the Royal College of Nursing. HAMISH PRINGLE, formerly Vice-Chairman of Marketing at Saatchi & Saatchi has now formed his own consultancy, Brand Beliefs Limited. He has been Chairman of the IPA Advertising Effectiveness Committee and is also past Chairman of the UK communications industry charity NABS.
See More