Textbook
Computing Skills for Economists
ISBN: 978-0-471-98806-9
296 pages
June 2000, ©2000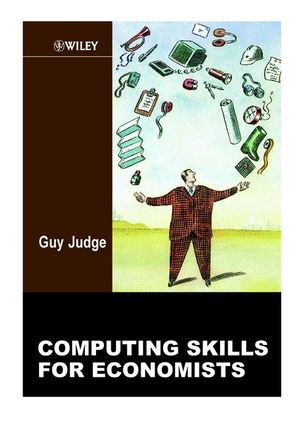 Today's students are expected to use computers and familiarise themselves with word-processing and spreadsheet packages in their work. They are also expected to be able to use the Internet for e-mail and accessing information on the Web. In fact, some lecturers use the Web to provide course notes or even deliver parts of the course interactively. Most available computer books are too general and often miss out features that would be particularly helpful to economists. In fact, they don't show how such tools can be used in economics.

This textbook fills a need for a computing and IT book aimed specifically at undergraduate economics students. It bridges the gap between IT literacy and the use of hardware, software and other resources in learning and doing economics. The main focus is on the tools and the resources that are particularly relevant to economists with examples of their use and suggestions of how to apply and exploit them in applications in economics.

FEATURES

Assumes no previous computing background - the book will adopt a practical and applied approach with emphasis on the software used by economists and how they use it.

Use of examples and applications will allow readers to learn by doing and develop their computing skills.

The book will be written in a concise and informal style with the use of screen grabs and text boxes.

www.wiley.co.uk/judge - a Website containing solutions to exercises, PowerPoint slides and other supplementary material for instructors. The site will also have an archive for data used in the book and be a means of updating information.

CONTENTS: Introduction: Tools, Tasks, Resources and Skills; Beginning to Work with Computers in Economics; Building on the Basics: Skills Development; Spreadsheets for Economists; The Internet for Economists; Statistics and Econometrics Software for Economists; More Advanced Computing Skills for Economists.
See More
INTRODUCTION: TOOLS, TASKS, RESOURCES and SKILLS.
Economists, computers and IT in today's world
The contents, structure and approach of this book
Preliminary information and key concepts
Tools, tasks, skills and resources
Summary
Appendix. Skills for file and disk management tasks

BEGINNING TO WORK WITH COMPUTERS IN ECONOMICS
Beginning to work with a word processor
Your first word processed document
Beginning to work with a spreadsheet
Your first spreadsheet application
Beginning to work with e-mail software
Your first e-mail message
Beginning to work with a web browser
Your first time browsing the web
Beginning to work with presentation software
Preparing your first presentation
Beginning to work with database software
Creating your first database
Summary
Exercises and mini-projects

BUILDING ON THE BASICS. SKILLS DEVELOPMENT
Incorporating graphics, symbols and equations
Including a graphics image in a word processed document
Working with longer word processed documents
A word processed essay
Simple economic modeling using a spreadsheet
Cost-volume-profit analysis on a spreadsheet
Developing your e-mail skills
Sending and receiving a file attachment
Summary
Exercises and mini-projects

SPREADSHEETS FOR ECONOMISTS.
Analyzing and summarizing economic data
GDP per capita in OECD countries
Cross-tabulation
The position of women in economics departments
Regression on a spreadsheet
Carbon monoxide emissions in the European Union
A simple model of the UK consumption function
A simple Cobb-Douglas production function
Financial analysis on a spreadsheet
Investment appraisal and the net present value of an investment project
Optimization in a spreadsheet
Least squares regression again
A linear programming problem
Portfolio selection
Working with matrices in a spreadsheet
A simple macroeconomic model
Dynamic economic models in a spreadsheet
A simple multiplier-accelerator model
Summary
Exercises and mini-projects

STATISTICS AND ECONOMETRICS SOFTWARE.
Introduction. Dedicated statistics and econometrics packages
Preparing to use statistics and econometrics software: some preliminary considerations
Becoming familiar with statistics and econometrics software
Cigarette consumption in Turkey
More advanced time series analysis with econometrics packages
Unit-root tests of Tansel's cigarette consumption data
Cointegration analysis of the advertising-sales relationship
Summary
Exercises and mini-projects

THE INTERNET FOR ECONOMISTS.
Introduction: the ever changing Internet - expansion, evolution, and revolution
Finding information on the web
Using search engines
Using SOSIG
Finding specific types of economic information on the web
Downloading and using data from the web
Conducting a bibliographical search
Economic journals available on-line
Working papers and pre-prints
Tracking down working papers by Hal Varian
Current awareness services
On-line learning and interactive tools on the web
Building your own web page
Creating a simple web page
Summary
Exercises and mini-projects

MORE ADVANCED COMPUTING SKILLS FOR ECONOMISTS.
Introduction
More advanced use of spreadsheets and econometrics software: controlling your software with macros and procedures
Other computing tools for programming in econometrics
More advanced word processing for mathematical documents
Symbolic algebra software
Getting ready for the future
Summary
Exercises and mini-projects

REFERENCES AND FURTHER READING.

INDEX.
See More
Guy Judge is deputy Head of the Department of Economics at the University of Portsmouth and co-ordinator of the CALECO Research Group. He is also editor of CHEER (Computers in Higher Education Economics Review) and Software Reviews Editor for The Economic Journal.
See More
"A unique book, essential to any economist's toolkit. From the level of the absolute beginner, and in a very user-friendly style, it takes the reader step by step through the entire range of computing skills essential to the study of economics. The book answers innumerable questions and saves many hours otherwise typically squandered on 'trial and error' methods of mastering software. Almost any economics student, whatever their level, will learn something new from this book." -Geoff Renshaw, Lecturer in Economics, University of Warwick
"This book is impressive for the comprehensiveness and clarity of its explanations of mainly Windows applications of personal computer research tools for economists. Its accessibility to those with diverse computer literacy will raise the bar of the skills instructors can reasonably expect of their students without sacrificing valuable class time or having to prepare elaborate handouts to level the playing field. Its extensive examples will teach students a good deal of economics as well as enriching their research abilities." -Arnie Katz, Economics Professor Emeritus, University of Pittsburgh
"A goldmine of skills for every aspiring economist. Something for everyone."-Ron Shone, Senior Lecturer in Economics, University of Stirling
"There is an excellent chapter on the use of spreadsheets, in particular Excel." - THES
See More
Supplementary Website
Contains updates on latest developments, additional mini projects, data files, links to other websites and FAQs.
See More
Instructors Resources
Contact your Wiley Representative
Find Your Rep

See More
See Less
Students Resources
See More
See Less