Metallocene-based Polyolefins, Preparation, Properties, and Technology, Volume 1
ISBN: 978-0-471-99911-9
560 pages
January 2000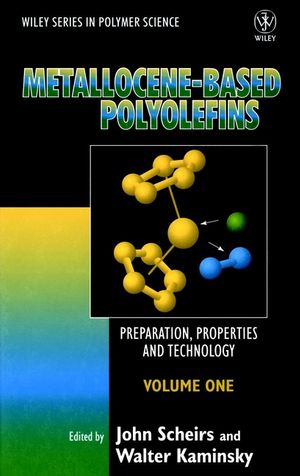 The manufacture of polyolefins by metallocene catalysts represents a revolution in the polymer industry. The first, patent for a metallocene catalyst was filed in 1980 but it has been the last five years that have seen a dramatic increase in the volume of research into metallocenes and the maturing of metallocene technology. With contributions from leading experts from the US, Canada, Italy, Scandinavia, Germany and Japan, Metallocene-based Polyolefins gives comprehensive coverage of all areas of metallocene technology: catalyst structure, comonomer incorporation, polymerization mechanisms and conditions, reactor configurations, special properties, rheological and processing behaviour, comparison with conventional polyolefins and fields of application. An essential book for plastics engineers, polymer chemists, physicists, materials scientists and all those working in the plastics manufacturing and processing industries.
See More
NATURE OF METALLOCENE CATALYSTS.
Metallocene Polymerization Catalysts: Past, Present and Future (J. Ewen).
Alkylalumoxanes: Synthesis, Structure and Reactivity (A. Barron).
MAO-free Metallocene Catalysts for Ethylene (Co)Polymerization (L. Resconi, et al.).
Influence of Metallocene Structures on Molecular and Supermolecular Architectures of Polyolefins (D. Fischer, et al.).
Olefin Polymerization by Monocyclopentadienyl Compounds of Titanium, Zirconium and Hafnium (S. Ewart M. Baird).
Molecular Architecture: A New Application Design Process Made Possible by Single-site Catalysts (A. Torres, et al.).
Generation of Cationic Active Species for Olefin Polymerization from ansa-Metallocene Amide Complexes (I. Kim).
Supported Metallocene Polymerization Catalysis (J. Chien).
Supported Metallocene Catalysts for Olefin Polymerization (G. Hlatky).
Homogeneous Phosphametallocene-based Catalysts for Olefin Polymerization (M. Sone).
Nickel- and Palladium-based Catalysts for the Insertion Polymerization of Olefins (L. Johnson C. Killian).
ETHYLENE POLYMERIZATION.
Structure, Properties and Preparation of Polyolefins Produced by Single-site Catalyst Technology (P. Chum, et al.).
New Developments in the Production of Metallocene LLDPE by High-pressure Polymerization (A. Akimoto A. Yano).
Metallocenes as Catalysts for the Copolymerization of Ethene with Propene and Oienes (M. Galimberti, et al.).
Copolymerization of Ethylene with Dienes Using Metallocene/MAO Catalysts (G. Jiang).
Ethylene Polymerization Using a Metallocene Catalyst Anchored on Silica with a Spacer (D.-H. Lee S. Noh).
PROPYLENE POLYMERIZATION.
Synthesis of Isotactic Polypropylene by Metallocene and Related Catalysts (K. Soga, et al.).
Synthesis and Properties of Metallocene Catalysts for Isotactic Polypropylene Production (W. Spaleck).
Properties of Metallocene-catalyzed Isotactic Polypropylene (W. Spaleck).
Metallocene-catalyzed Syndiotactic Polypropylene: Preparation and Properties (T. Shiomura, et al.).
Synthesis of Atactic Polypropylene Using Metallocene Catalysts (L. Resconi).
Design of Ethylene-bridged ansa-Zirconocene Dichlorides for a Controlled Propene Polymerization Reaction (J. Voegele, et al.).
Index.
See More