Metallocene-based Polyolefins, Preparation, Properties, and Technology, Volume 2
ISBN: 978-0-471-99912-6
600 pages
January 2000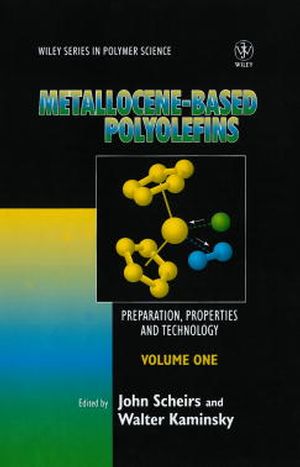 With contributions from leading international experts, this essential book gives comprehensive coverage of all areas of metallocene catalysts and metallocene-based polyolefins including details of the very latest developments.

The manufacture of polyolefins by metallocene catalysts represents a revolution in the polymer industry. The last five years in particular have seen a dramatic increase in the volume of research into metallocenes and the maturing of metallocene technology.

The following areas are covered in this comprehensive book: catalyst structure, comonomer incorporation, polymerization mechanisms and conditions, reactor configurations, special properties, comparison with conventional polyolefins, rheological and processing behavior and fields of application.

This is an invaluable book for plastics engineers, polymer chemists, physicists, materials scientists, and all those working in the plastics manufacturing and processing industries.
See More
MECHANISTIC ASPECTS OF METALLOCENE CATALYSTS.

Molecular Modeling Studies on Stereospecificity and Regiospecificity of Propene Polymerizations by Metallocences (P. Corradini, et al.).

Chiropicity of Metallocene Catalysts and Propene Polymerization (G. Di Silvestro).

Stereospecific Polymerization of Chiral -Olefins (A. Zambelli).

Computational Modeling of Single-site Polymerization Catalysts (T. Woo, et al.).

CYCLOOLEFINS, DIENES AND FUNCTIONALIZED OLEFIN POLYMERIZATION.

Homo- and Copolymerization of Cycloolefins by Metallocene Catalysts (W. Kaminsky & M. Arndt-Rosenau).

Metallocene Catalysts for 1,3-Diene Polymerization (L. Porri, et al.).

New Functionalized Olefin Copolymers Synthesized by Metallocenes and Novel Organometallic Catalysts (B. Lofgren & J. Seppala).

PLASTOMERS AND ELASTOMERS.

Constrained Geometry Single-site Catalyst Technology Elastomers and Plastomers for Impact Modifications and Automotive Applications (K. Sehanobish, et al.).

Structure, Properties and Applications of Polyolefin Elastomers Produced by Constrained Geometry Catalysts (T. Ho & J. Martin).

Packaging Applications Using Enhanced Polyethylenes and Polyolefin Plastomers Produced by Contrained Geometry Single-site Catalysts (K. Koch, et al.).

Measurement, Mathematical Modeling and Control of Distribution of Molecular Weight, Chemical Composition and Long-chain Branching of Polyolefins Made with Metallocene Catalysts (J. Soares & A. Penlidis).

STYRENE POLYMERIZATION.

Structure, Properties and Applications of Ethylene-Styrene Interpolymers (M. Guest, et al.).

Metallocene-Based Reactive Polyolefin Copolymers Containing p-Methylstyrene (T. Chung).

COMMERCIAL METALLOCENE POLYMERIZATION METHODS.

Applications of Metallocene Catalysts to Large-scale Slurry Loop Reactors (D. Fahey, et al.).

Multi-catalyst Reactor Granule Technololgy for the Production of Metallocene Polymers (J. Haylock, et al.).

Metallocene Catalyst Technology in a Bimodal Polymerization Process (H. Knuuttila, et al.).

RHEOLOGY AND PROCESSING OF METALLOCENE-BASED POLYMERS.

Rheological Properties of Metallocene-catalyzed Polyolefins in the Melt and Solid States and Comparison with Conventional Polyolefins (J. Carella & L. Quinzani).

Rheology and Processing of Metallocene-based Polyolefins (F. Eckstein, et al.).

Melt-rheological Characteristics of Metallocene-catalyzed Polyethylenes (D. Rohlfing & J. Janzen)

Extrusion Characteristics of Metallocene-based Polyolefins (C. Cheng).

APPLICATIONS OF METALLOCENE-BASED POLYOLEFINS.

Film Applications for Metallocene-based Propylene Polymers (A. Mehta, et al.).

Medical Applications of Metallocene-catalyzed Polyolefins (R. Portnoy & J. Domine).

Constrained Geometry-catalyzed Polyolefins in Durable and Wire and Cable Applications (S. Betso, et al.).

Production and Use of Metallocene-based Polyethylene in Rotomolding Applications (A. Fatnes, et al.).

Index.
See More