Ashgate Handbook of Endocrine Agents and Steroids
ISBN: 978-0-566-08383-9
270 pages
September 2000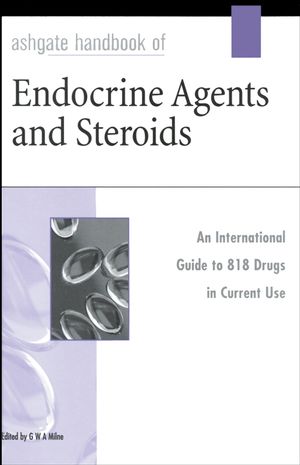 Treatment of endocrine disorders is an important branch of medicine and many drugs have been developed for use in this area. Endocrine disorders and the drugs used to treat them are quite diverse, ranging from iodine-containing thyroxine analogs used to treat hypothyroidism, to steroid androgens, progestins and estrogens.

This Handbook contains records for all the major drugs currently used in endocrinology. Monographs are provided for 818 endocrine agents and steroids. For each main entry, the following information is provided: the chemical name and a list of trade names and synonyms; the Chemical Abstracts Service (CAS) Registry Number; the European Inventory of Existing Commercial Chemical Substances (EINECS) Number, and the Merck Index (12th edition) Number. The physical properties of each compound are described and the known biological activity and indicated applications are presented. The structure of each compound is provided, together with a summary of the acute toxicity data associated with it, and the manufacturers and suppliers of the drug are also given. Indexes, including a master index of names and synonyms, are appended.
See More
Preface.
Acknowledgements.
How to Use This Book.
Glossary of Units.
Abbreviations.
Part I: Main Entries.
Pituitary/Hypothalamic Agents.
Adrenocortical Agents.
Androgens and Anabolic Steroids.
Calcium Metabolizing Agents.
Estrogens and Progestins.
Glucose Regulating Agents.
Thyroids and Antithyroids.
Steroids, General.
Part II: Indexes.
CAS Registry Number Index.
EINECS Number Index.
Name and Synonym Index.
Part III: Manufacturers and Suppliers Directory.
See More
G W A Milne was a Senior Researcher at the National Institutes of Health in Bethesda, MD, USA for 35 years where he worked on the use of spectroscopy for structure determination of organic compounds, and on molecular modeling in the design of drugs for the treatment of cancer and AIDS. He has been active for many years in the fields of chemical information and chemical computation and is the Editor of the American Chemical Society's Journal of Chemical Information and Computer Science; Gardner's Chemical Synonyms and Trade Names, Eleventh Edition (Ashgate); and Drugs: Synonyms and Properties (Ashgate).
See More