Textbook
War in the Middle Ages
ISBN: 978-0-631-14469-4
408 pages
January 1991, ©1986, Wiley-Blackwell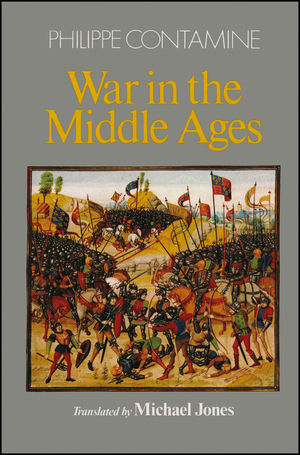 Covering the ten centuries following the fall of Rome, War in the Middle Ages engages all aspects of its subject, including the military customs and conditions of the various Western European states; armor and weaponry recruitment; and rules of combat developed to limit bloodshed.
Philippe Contamine writes with an awareness that, in both theory and fact, medieval warfare was constantly evolving. He opens with a chapter on Roman military disintegration and the practice of warfare in the barbarian kingdoms erected on the empire's ruins. He then shows how feudalization multiplied conflicts, and describes the resulting growth of the "great stone civilization" of the castle. In the area of military method, he emphasizes three innovations: gunpowder, standing armies and the increased use of infantry, supplying in each case a wealth of data and documentation.
Contamine traces the rise of a new literature of strategy and changes in the concept of courage which he puts in the context of actual risk. He points out that the chivalric ideals of the later Middle Ages operated within narrow limits, outside which aristocrats and commoners freely slaughtered each other. Contamine also analyzes the theories of just and unjust war that developed at this time, and illustrates a phenomenon more typical of the period; the religious glorification of the warrior.
Ever mindful of the chaos and devastation that war brings, War in the Middle Ages nonetheless offers a clear and consistent picture of the military ethos of a millennium.
See More
Acknowledgements.

List of Maps and Figures.

Translator's Note.

Preface to the English Edition.

List of Abbreviations.

Part I: The State of Knowledge: General Characteristics of Medieval Military History:.

1. The Barbarians from the Fifth to the Ninth Century.

2. The Feudal Age from the Beginning of the Tenth to the Middle of the Ninth Century.

3. Medieval Society in its Prime from the Mid-Twelfth to the Early Fourteenth Century.

4. Free Companions, Gunpowder and Permanent Armies from the Beginning of the Fourteenth to the end of the Fifteenth Century.

Part II: Themes and Perspectives:.

5. Arms and Armour.

6. Artillery.

7. The Art of War.

8. War, Government and Society.

9. Towards a History of Courage.

10. Juridical, Ethical and Religious Aspects of War.

Conclusion.

Part III: Bibliography: .

11. General.

12. The Art of War: Conflicts, Campaigns, Sieges and Battles.

13. Institutions, Societies and Military Attitudes.

14. Arms, Armour and War Engines.

15. Cannons and Gunpowder Artillery.

16. Castles and Fortifications.

17. War Economy and Taxation.

18. War and Peace: Laws, Ethics and Christianity.

Bibliography.

Index.
See More
"This is, quite simply, the best book on medieval European warfare available in any language ...
War in the Middle Ages
is not only required reading for all medieval or military historians; it is also enjoyable, clear and crisp ... it must rank as the best buy among history books."
History Today
"The best survey of the period in French or English. This is military history at its finest, relating its subject to society at large. There is much to glean on society and organization for war in a crucial thousand years of European history." International History Review
"Philippe Contamine's indispensable survey ... [is] now available in a welcome and clear English translation by Michael Jones... What should be emphasized is how useful it is to have so much information between one pair of covers, and that this information is provided by a careful historian who has here produced both a work of reference and a stimulus to further research." London Review of Books
See More