The Industrial Revolutions, 11 Volume Set
ISBN: 978-0-631-17486-8
5000 pages
May 1994, Wiley-Blackwell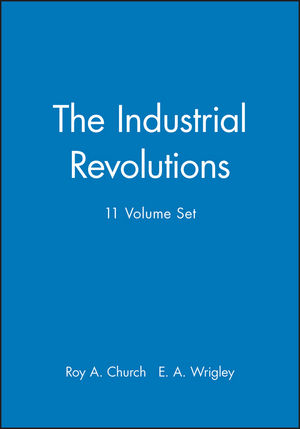 The Economic History Society, in association with Blackwell Publishers, announces the publication in eleven volumes of a new collection of seminal articles on the industrial revolutions worldwide.
Each volume includes twenty to twenty-five articles representing the most influential writing on the subject, accompanied by editorial introductions surveying the main strands of intellectual advancement and the important conceptual advances that have characterized research on the topics under consideration.
The collection forms a set of volumes on all aspects of the Industrial Revolution, providing a unique resource for libraries with collections in economics and history. Together, they give an insight into the development of research on the subject over the last 50 years.
The Industrial Revolutions under discussion are the first industrial revolution - the period of the cotton mill and the steam engine, rather than electrical engineering, fine chemicals and the internal combustion engine. The Industrial Revolutions were events of such profound and continuing importance for all societies that achieving a better understanding of their nature must be a prominent aspect of the educational objectives of both individuals and institutions.
See More
Volume 1: Pre-Industrial Britain:
Edited by J. A. Chartres (University of Leeds).
Volumes 2 & 3: The Industrial Revolution in Britain: Edited by Julian Hoppit and E. A. Wrigley (University College London and All Souls College, Oxford).
Volumes 4 & 5: The Industrial Revolution in Europe: Edited by Patrick O'Brien (Institute of Historical Research, University of London).
Volume 6: Industrialization in North America: Edited by Peter Temin (Massachusetts Institute of Technology).
Volume 7: The Industrialization of Japan: Edited by William J. Macpherson (Gonville and Caius College, University of Cambridge).
Volume 8: The Textile Industries: Edited by D. T. Jenkins (University of York).
Volume 9: The Metal Fabrication and Engineering Industries: Edited by Sidney Pollard (University of Sheffield).
Volume 10: The Coal and Iron Industries: Edited by R. A. Church (University of East Anglia).
Volume 11: Commercial and Financial Services: Edited by R. A. Michie (University of Durham).
See More
* The series includes both topical volumes, dealing with individual industries or areas of economic activity.
* Each volume contains a critical bibliography whose utility to current research will be of essential interest to both specialist and undergraduate libraries.
* The articles are reproduced in their original form and pagination, but with continuous pagination added for ease of reference.
* Each volume contains an editorial introduction which explains the choice of articles, describes the main debates and provides a guide to further reading.
See More