Ramesside Inscriptions, Volume VI, Ramesses IV to XI and Contemporaries: Translations
ISBN: 978-0-631-18432-4
640 pages
October 2012, Wiley-Blackwell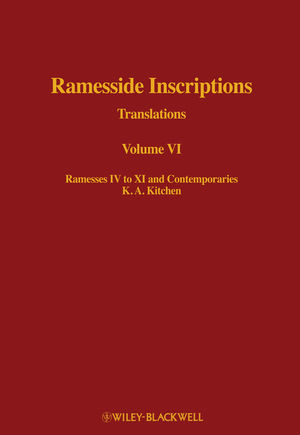 Based on the hieroglyphic texts of the Ramesses Age of Ancient Egypt (c.1300-1100 BC), the books in this series present a modern English translation of the vast majority of historical sources for this important epoch of Egyptian history. This volume covers a period of political and economic decline in Egypt until the death of the final king of the Twentieth Dynasty (c.1155-1078 BC).
The latest in a respected series of translations of the hieroglyphic texts of the Ramesside Age of Ancient Egypt (c.1300-1100 BC)
Coverage includes the rise of the power in priesthood and the decline in the power of kings, from political corruption, drought, famine, and economic upheaval
Many texts included have been translated into English for the first time in this volume
See More
K. A. Kitchen is Emeritus Professor of Egyptology in the University of Liverpool, where he taught for 39 years. During that time, he worked extensively in Egypt, recording the texts for the hieroglyphic edition of Ramesside Inscriptions, I-VIII (Blackwell, 1969-1990), which is the basis for the Translations and Notes and Comments volumes now being issued. He has also produced a major book on Egyptian chronology for later Egypt (1100-650 BC), a classic popular 'Life and Times' of Ramesses II, and a comprehensive Catalogue of the notable Egyptian collection in Rio de Janeiro; other books on archaeology and the Bible; and the first two-volumes of a series on Ancient (pre-Islamic) Arabia.
See More
More in this series