Folk Psychology: The Theory of Mind Debate
ISBN: 978-0-631-19515-3
312 pages
November 1995, Wiley-Blackwell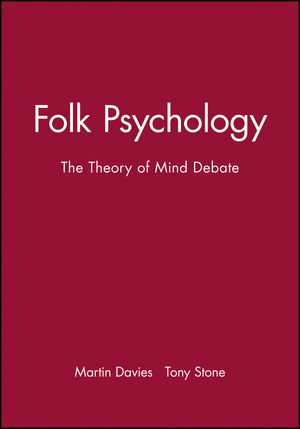 Many philosophers and psychologists argue that normal adult human beings possess a primitive or 'folk' psychological theory. Recently, however, this theory has come under challenge from the simulation alternative . This alternative view says that human bings are able to predict and explain each others' actions by using the resources of their own minds to simuate the psychological etiology of the actions of others. The thirteen essays in this volume present the foundations of theory of mind debate, and are accompanied by an extensive introduction.
See More
List of Contributors.
Acknowledgements.
Introduction: Martin Davies and Tony Stone.
1. Replication and Functionalism: Jane Heal.
2. Folk Psychology as Simulation: Robert M. Gordon.
3. Interpretation Psychologized: Alvin I. Goldman.
4. The Simulation Theory: Objectives and Misconceptions: Robert M. Gordon.
5. Folk Psychology: Simulation or Tacit Theory?: Stephen Stich and Shaun Nichols.
6. 'He thinks He Knows': And more Development Evidence Against the Simulation Role Taking Theory: Josef Perner and Deborah Howes.
7. Reply to Stich and Nichols: Robert M. Gordon.
8. Reply to Perner and Howes: Robert M. Gordon.
9. In Defense of Simulation Theory: Alvin I. Goldman.
10. From Simulation to Folk Pyschology: The Case for Development: Paul L.Harris.
11. Why the Child's Theory of Mind Really is a Theory: Alison Gopnik and Henry M. Wellman.
12. Reading the Eyes: Evidence for the Role of Perception in the Development of a Theory of Mind: Simon Baron-Cohen and Pippa Cross.
13. Theory, Observation, and Drama: Simon Blackburn.
References.
Index of Names.
Index of Subjects.
See More
Martin Davies
is Wilde Reader in Mnetal Philosophy in the University of Oxford and a Fellow of Corpus Christi College. He was formerly a Lecturer and then Reader in Philosophy at Birkbeck College, London. He has published widely in the areas of philosophy of language, mind and psychology, and from 1989 to 1995 was Executive Editor of the Journal Mind and Langusge (Blackwell Publishers).
Tony Stone is Head of the Psychology Group and Director of the Modular Programme at King Alfred's College of Higher Education, Winchester. He has published papers on the philosophy of psychology, and is currently working on a book on the philosophical issues raised by cognitive neuropsychology.
See More
More in this series