Critical Consulting: New Perspectives on the Management Advice Industry
ISBN: 978-0-631-21819-7
Hardcover
296 pages
October 2001, Wiley-Blackwell
US $130.00

Add to Cart
This price is valid for United States. Change location to view local pricing and availability.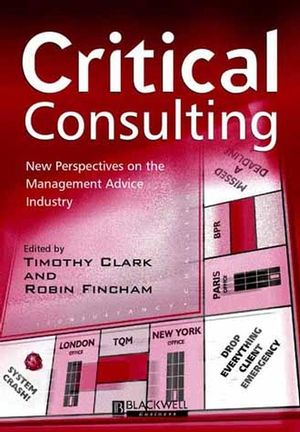 List of Figures and Tables.
Notes on Contributors.
Introduction: The Emergence of Critical Perspectives on Consulting: Robin Fincham (Stirling University) and Timothy Clark (King's College).
Part I: Setting the Scene: The Nature of Management Consultancy and Management Advice:.
1. Consulting: What Should it Mean?: Edgar H Schein (MIT Sloan School of Management).
2. Trapped in their Wave: The Evolution of Management Consultancies: Matthias Kipping (University of Reading).
3. The Rise of Consultancy and the Prospect for Regions: Peter Wood (University College London).
4. On Knowledge, Business Consultants and the Selling of TQM: Karen Legge (University of Warwick).
Part II: The Contexts of Management Consultancy and Management Advice:.
5. Virtual Stories of Virtual Working: Critical Reflections on CTI Consultancy Discourse: Peter Case (Oxford Brookes University).
6. The Vision Thing: Constructing Technology and the Future in Management Advice: Brian P Bloomfield (Lancaster University Management School) and Theo Vurdubakis (Manchester School of Management).
7. Front-Line Diffusion: The Production and Negotiation of Knowledge Through Training Interactions: Andrew Sturdy (University of Melbourne).
8. Knowledge Legitimation and Audience Affiliation Through Storytelling: The Example of Management Gurus: Timothy Clark (King's College) and David Greatbatch (Independent Social Scientist).
9. A Fantasy Theme Analysis of Three Guru-Led Management Fashions: Brad Jackson (Victoria University of Wellington).
Part III: Critical Reflections on Management Consultancy and Management Advice:.
10. Charisma versus Technique: Differentiating the Expertise of Management Gurus and Management Consultants: Robin Fincham (Stirling University).
11. On Communication Barriers between Management Science, Consultancies and Business Companies: Alfred Kieser (University of Mannheim).
12. Professionalism and Politics in Management Consultancy Work: Mats Alvesson (Lund University) and Anders W Johansson (Jonkoping International Business School, Sweden).
13. Understanding Advice: Towards a Sociology of Management Consultancy: Graeme Salaman (Open University).
14. What Next? More Critique of Consultants, Gurus and Managers: Frank Heller (Centre for Decision Making Studies).
Index.