The European Union: The Annual Review 1999 / 2000
ISBN: 978-0-631-22183-8
224 pages
January 1991, Wiley-Blackwell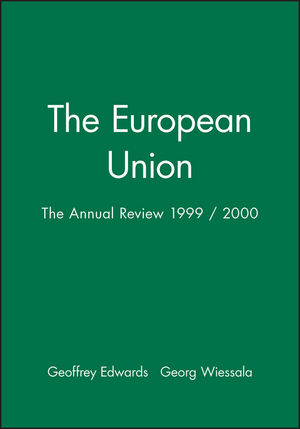 The
Annual Review
, produced in association with the
Journal of Common Market Studies
, covers the key developments in the European Union and its Member States in 1999. It contains analytical articles on key political, economic and legal issues in the EU by leading experts, together with a keynote article entitled "European defence, two cheers for Tony Blair" by John Roper of the University of Birmingham.
The Review, formerly entitled European Union Annual Review of Activities is the most up-to-date and authoritative source of information for those engaged in teaching and research or who are simply interested in the European Union. It includes an invaluable guide to EU documents and publications - and the various websites of the EU - together with a chronology of key events, and a list of all the books submitted to the Journal of Common Market Studies for review.
See More
1. Editorial: Revolution Beyond Reform?: Georg Wiessala and Geoffrey Edwards (University of Central Lancashire and University of Cambridge.
2. Keynote Article: Two Cheers for Mr Blair? The Political Realities of European Defence Co-operation: John Roper.
3. Governance and Institutions 1999: Resignation, Reform and Renewal: Desmond Dinan.
4. The German Presidency of the Council: Continuity or Change in Germany's European Policy: Andreas Maurer (University of Cologne).
5. The Finnish Presidency: Alexander C-G. Stubb.
6. Internal Policy Developments: Hussein Kassim (Birkbeck College, University of London).
7. Softer Euro, Stronger Europe: Alison Cottrell (Payne Webber International, UK).
8. Legal Developments: Nigel Foster (Cardiff Law School).
9. External Policy Developments: David Allen and Michael Smith (Loughborough University).
10. Enlarging Europe: Julie Smith.
11. Justice and Home Affairs: Jöerg Monar (University of Leicester).
12. Developments in the Member States: Lee Miles (University of Hull).
13. Developments in the Economies of the European Union: Nigel Grimwade (South Bank University).
14. Chronology of Events in 1999: Georg Wiessala (University of Central Lancashire).
15. Documentation of the European Union in 1999: Patrick Overy and Ian Mayfield (University of Exeter and University of Portsmouth).
16. Books on European Integration: Brian Ardy and Jackie Gower.
See More
More in this series