The Making of Literate Societies
ISBN: 978-0-631-22743-4
Paperback
368 pages
August 2001, Wiley-Blackwell
US $71.95

Add to Cart
This price is valid for United States. Change location to view local pricing and availability.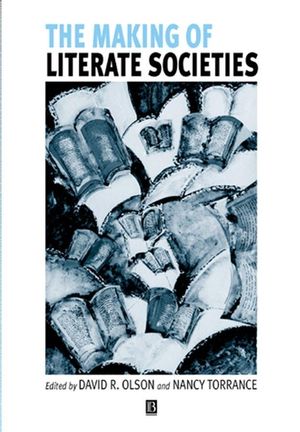 Preface.
.
Part I: On Being a Literate Society: Conceptual and Historical Perspectives on Literacy.
1. Conceptualizing Literacy as a Personal Skill and as a Social Practice (David R. Olson and Nancy Torrance).
2. The Roles of Literacy Practices in the Activities and Institutions of Developed and Developing Countriesm (Armin Triebel).
3. Societal Literacy: Writing Culture and Development (Georg Elwert.).
4. Literacy in Ancient Greece: Functional Literacy, Oral Education and the Development of a Literate Environment (Rosalind Thomas).
5. Literacy in Germany (Utz Maas).
6. Literacy in Japan: Kanji, Kana, Romaji and Bits (Florian Coulmas).
Part II: On Becoming a Literate Society: Literacy in Developing Societies..
African Case Studies.
7. Language, Literacy, the Production and Reproduction of Knowledge, and the Challenge of African Development (Kwesi K. Prah).
8. Literacy and Literature in National Languages in Benin and Burkina-Faso (Joseph Akoha).
9. Constructive Interdependence: The Response of a Senegalese Community to the Question of Why Become Literate (Sonja Fagerberg-Diallo).
10. Literacy for Gonja and Birifor Children in Northern Ghana (Esther Goody).
Central and South American Case Studies.
11. Literacy and Intercultural Bilingual Education in the Andes (Luis Enrique López.).
12. The Uses of Orality and Literacy in Rural Mexico: Tales from Xaltipan (Elsie Rockwell).
Asian Case Studies.
13. Developing a Literate Tradition in Six Marginal Communities in the Philippines: Interrelations of Literacy, Education and Social Development (Maria Luisa Canieso-Doronila).
14. Issues of Literacy Development in the Indian Context (Chander Daswani.).
15. Women and Empowerment Through Literacy (Malini Ghose).
Part III: Conclusion: From Research to Policy.
16. Literacy and Social Development: Policy and Implementation (Ingrid Jung and Adama Ouane).
Name Index.
Subject Index.