Children and Play: Understanding Children's Worlds
ISBN: 978-0-631-23521-7
Hardcover
268 pages
May 2009, Wiley-Blackwell
US $121.95

Add to Cart
This price is valid for United States. Change location to view local pricing and availability.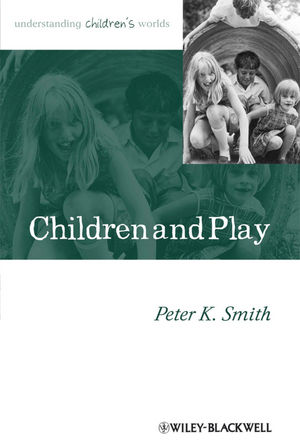 This is a Print-on-Demand title. It will be printed specifically to fill your order. Please allow an additional 5-6 days delivery time. The book is not returnable.
Series Editor's Preface.
Acknowledgments.
Chapter 1 An Introduction to Play.
Why Play?
Examples of What Is and What Is Not Play.
Characteristics of Playful Behavior.
Types of Play.
Things That Are Probably Not Play: Exploration, Stereotypic Behavior, Work, Rule-Governed Games.
Methods of Studying Play.
Plan of the Book.
Chapter 2 A Brief History of the Study of Play and of Play Theories.
Early European Educators and the Role of Play.
Evolutionary Theory and Play: Darwin, Spencer, and Groos.
Psychoanalytic Perspectives on Play.
The Play Ethos.
Anthropological Perspectives on Play.
Psychological Perspectives: Vygotsky and Piaget.
Developmental Sequences in Play: Piaget, Smilansky, Rubin.
More Recent Play Theorists.
Chapter 3 Animal Play: Definitions and Descriptions.
Possible Play in Birds, Lower Vertebrates, and Invertebrates.
Play in Mammals.
Some Examples of Mammalian Play.
Do All Mammals Play?
Play in Monkeys and Apes.
Chapter 4 Animal Play: Theoretical Perspectives on Function.
Theories and Evidence Concerning the Evolution and Adaptive Value of Animal Play.
Examining Possible Benefits of Play.
General Views on the Benefits of Play.
The Possible Relevance for Human Play of Studying Animal Play.
Chapter 5 Play in Different Cultures.
(author: Yumi Gosso)
Parakanã Children.
Factors Contributing to Cultural Similarities and Differences.
Similarities and Differences across Cultures.
Chapter 6 Physical Activity Play: Exercise Play and Rough-and-Tumble.
Stages in Physical Activity Play.
Rough-and-Tumble Play.
Sex Differences in Physical Activity Play.
Functions of Physical Activity Play.
Chapter 7 Object Play.
Sensorimotor or Functional Play.
Beyond the Sensorimotor Period.
Functions of Object Play.
Experiments with Object Play and Creative Problem-Solving.
Chapter 8 Pretend Play: Description.
Definitions of Pretend or Fantasy Play.
The Development of Pretend Play in Children.
Solitary and Social Pretend Play.
Sociodramatic Play.
Imaginary Companions.
Distinguishing Fantasy and Reality.
Gender Differences.
Pretend Play and Friendship.
Other Factors Affecting Pretend Play.
A Universal Human Feature?
Children with Autism.
Pretend Play as a Lifespan Activity?
Chapter 9 Pretend Play: Theories and Functions.
Arguments for Benefits of Pretend or Fantasy Play.
Theories Concerning the Function of Pretend Play.
Models of the Role of Pretend Play in Development.
Evidence for the Functions of Pretend Play.
Experimental Studies.
Chapter 10 Some Practical Issues Concerning Play.
The Role of Parents in Encouraging and Structuring Children's Play.
The Role of Play in the Early Childhood Curriculum: Play Training.
Attitudes to War Play.
The Arguments For (and Against) Recess Breaks.
The Role of Play in Helping Children under Stress, or with Illness or Disability.
Chapter 11 Concluding Comments: Play and the Middle Way.
Play: Ignored or Idealized?
References.
Author Index.
Subject Index.