Textbook
The Birth of the Modern World: 1780-1914
ISBN: 978-0-631-23616-0
Paperback
568 pages
December 2003, ©2003, Wiley-Blackwell
US $50.95

Add to Cart
This price is valid for United States. Change location to view local pricing and availability.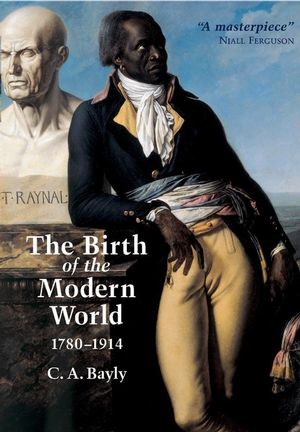 "With its dazzling erudition and its vast scope,
The Birth of the Modern World
is a masterpiece of distance-annihilating synthesis…At a stroke, all other general histories of the nineteenth century have become parochial…I cannot think of any living historian who could match this feat. The rest of us must simply applaud."
Niall Ferguson, University of Oxford
<!--end-->

"Bayly's work is awe-inspiring in its breadth and authority. To write a history of this kind, the author must possess a command of his sources... outstanding lucidity and a capacity to organise immensely complex and disparate material; above all, perhaps, a sense of proportion and the ability to balance striking detail against swooping vision. All these Bayly enjoys in abundance. Readers will enjoy an invigorating and enriching experience." The Telegraph

"A truly global history, a work of great richness and jaw-dropping erudition that ranges effortlessly across the continents, laying out a complex, multifaceted picture of modernity. A brilliantly told global story." The Sunday Times

"A remarkable achievement. As an accomplished and innovative historian, Bayly has the rare ability not just to indicate the need for a 'global approach to historical change' but also to deliver, with scrupulous regard for the complexity of his subject. Empire and genocide, nationalism and modernity - these are grand themes enough for many a work of history, but they do not exhaust the range of Bayly's ambition and erudition. It is a tribute to Bayly's skill that his discussion can be read with as much profit by those who are familiar with the historical debates he engages with as by those previously innocent of them." Times Literary Supplement

"Chris Bayly's erudite and engrossing account of the global birthpangs of modernity is not only a landmark contribution to historical literature but, indirectly and without a hint of overt engagement, a pertinent addition to contemporary debates about globalisation and the world order. This is a book that historians, foreign policy elites and protagonists on both sides of the debate need to read.... Bayly has produced the most compelling and significant historical synthesis to appear for many years." London Review of Books

"An enormously important book in its approach to global history, it is also a riveting account of modern warfare, empire, nationalism and religion. Bayly holds the reader's attention across a history of kingdoms ... In turn, what he delivers is a fascinating challenge to contemporary understandings of globalisation, religious belief and the threads of Empire." The Times

"Christopher Bayly's book will be essential reading for anyone seeking an historical angle on globalisation, and in particular on its impact on the world before 1914…No book I have ever read combines Bayly's level of knowledge, clarity and insight on this vast and hugely important theme." Dominic Lieven, London School of Economics and Political Science

"The impact of this book will be as broad as its originality, currency, and force." Linda Colley, Princeton University

"This brilliant history of the 19th century offers remarkably lucid, supple analyses of the concepts around which this story revolves: modernity, nationalism, imperialism, the state, industrialisation. Bayly not only deftly summarises a startling range of complex previous literature, as well as integrating it effectively into his bigger picture, but also pushes many of those theoretical debates forward." Stephen Howe

"This book, by one of the foremost scholars of modern Indian history, is a sprawling smorgasbord ... a challenging and thought-provoking piece of world history." Journal of World History

Winner of the Wolfson History Prize 2004

Winner of the H-Soz-u-Kult Book Prize (World and International History)

"[A] magisterial synthesis" Journal of Modern History

"This is a brilliant book. Bayly's analytical approach merits high praise and the wealth of information he presents is admirable." Iberoamericana