Occupational Health Risk Assessment and Management
ISBN: 978-0-632-04199-2
504 pages
May 1999, Wiley-Blackwell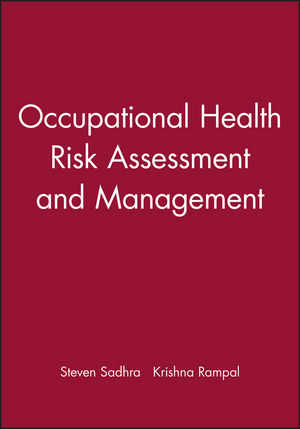 This is the first book to integrate all aspects of workplace risk assessment and management, now the overriding emphasis in occupational health.
Topics include: basic concepts and developments; toxic hazards; hazard characteristics and identification; setting standards; requirements of monitoring workplace exposure; contaminants; exposure modeling; risk perception and management; prevention and control; economics; emergency response; health surveillance; auditing; compliance; pesticides, chemicals, carcinogens, biological agents, and radiation; equipment screening; manual handling; stress; and workplace violence.
See More
List of contributors.
Foreword.
Section 1 Introduction.
Chapter 1 Basic concepts and developments in health risk assessment and management.
Chapter 2 Organizing for risk assessment and management.
Section 2 Risk assessment.
Chapter 3 Toxicological basis of hazard identification.
Chapter 4 Epidemiological basis of hazard identification.
Chapter 5 Occupational hazard types and their characteristics.
Chapter 6 Hazard identification techniques.
Chapter 7 Standard setting in occupational health.
Chapter 8 Requirements of monitoring exposure to workplace contaminants.
Chapter 9 Exposure modelling.
Chapter 10 Risk characterization.
Section 3 Risk management.
Chapter 11 Prevention and control of exposures.
Chapter 12 Economics of risk management.
Chapter 13 Emergency response.
Chapter 14 Risk perception.
Chapter 15 Risk communication.
Chapter 16 Health surveillance.
Chapter 17 Auditing risk assessment and management.
Chapter 18 Demonstrating compliance with the law.
Section 4 Applications of risk assessment and management in industry: case studies.
Chapter 19 Agriculture (pesticides).
Chapter 20 Assessment of exposure to isocyanates.
Chapter 21 Vibration.
Chapter 22 Risk management and manual handling.
Chapter 23 Risk management and display screen equipment.
Chapter 24 Biological agents.
Chapter 25 Risk assessment and management of asbestos in Malaysian industry.
Chapter 26 Risk assessment for workers exposed to ionizing radiation.
Chapter 27 Stress.
Chapter 28 Violence at work.
Appendix 1 Examples of UK legislation for different occupational hazard types.
Appendix 2 Schedule 3 to RIDDOR 1995.
Appendix 3 Information sources for the assessment and management of occupational health hazards.
Index.
See More
* first book to integrate all aspects of workplace risk assessment * risk assessment is now the overriding central emphasis in occupational health * makes use of practical case studies
See More