Reefs and Carbonate Platforms in the Pacific and Indian Oceans (Special Publication 25 of the IAS)
ISBN: 978-0-632-04778-9
336 pages
May 1998, Wiley-Blackwell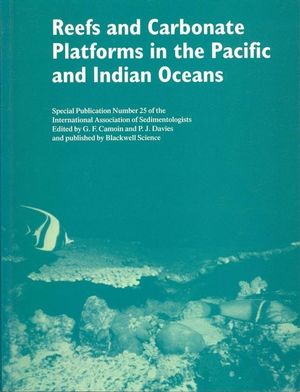 This IAS Special Publication #27 contains 17 of the papers presented at the IAS International Workshop on Reefs and Carbonate platforms in the Pacific and Indian oceans held in Sydney (July 1995). This is the first book to summarize the current state of knowledge about reefs and carbonate platforms in these oceans, where there is a great diversity of carbonate systems in various tectonic settings. Papers concern both processes operating in reefs and carbonate platforms and case histories (platform and oceanic reef case histories). Case histories range from the Lower Cretaceous to modern reefs and most fossil carbonate platforms concern outcomes from recent ODP legs in the Pacific. The book covers a broad spectrum of disciplines related to carbonate geology: sedimentology, geochemistry, geophysics, reef ecology and modeling.
If you are a member of the International Association of Sedimentologists, for purchasing details, please see: http://www.iasnet.org/publications/details.asp?code=SP25
See More
Introduction.
Processes Operating.
The Boundaries Of Carbonate Platforms.
The Origin Of The Great Barrier Reef.
Development And Demise Of Mid-Oceanic Carbonate Platforms, Wodejebato Guyot (NW Pacific).
Stable Tropics Not So Stable: Climatically-Driven Extinctions Of Reef-Associated Molluscan Assemblages (Western Indian Ocean, Last Interglacial To Present).
Sedimentary Cycles In Carbonate Platform Facies: Fourier Analysis Of Geophysical Logs From ODP Sites 865 And 866.
Platform Case Histories.
Aptian-Albian Eustatic Sea Levels.
Origin Of Massive Replacive Dolomite Within Atolls And Carbonate Platforms.
Computer Simulation Of A Cainozoic Carbonate Platform, Marion Plateau, Northeast Australia.
Quaternary And Tertiary Subtropical Carbonate Platform Development On The Continental Margin Of Southern Queensland, Australia.
Pleistocene Sea-Level Changes And The Consequent Development Of Reefs In The Ryukyu Islands, Southwestern Japan.
Oceanic Reef Case Histories.
Atolls And Volcanic Islands.
Morphology And Sediments Of The Foreslopes Of Mayotte, Comoro Islands: Direct Observations From Submersible.
Tectonic And Monsoonal Controls On Coral Atolls In The South China Sea.
Modeling Of Interstitial Water Circulation Inside A Reef Platform: Steady State Flow, Heterogeneity Effects And Tidal Transient State.
Active Margins; Environmental And Tectonic Influence On Growth And Internal Structure Of A Fringing Reef At Tasmaloum (SW Espiritu Santo, New Hebrides Island Arc, SW Pacific).
Passive Margins.
Lagoonal Sedimentation On Heron Reef, Southern Great Barrier Reef Province.
Terrigenous Sediment: A Control On Reef Development?.
Comparison Between Subtropical And Temperate Carbonate Elemental Composition: Examples From The Great Barrier Reef, Shart Bay And Tasmania, Australia And The Persian Gulf, UAE
See More
More in this series