Sandra Lee Semi-Homemade Cooking
ISBN: 978-0-696-22685-4
239 pages
September 2005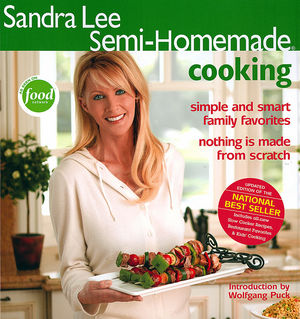 Recipes for every palate and mood—the Semi-Homemade way creates an inspiring pairing of fresh ingredients and packaged foods.
Quick-to-the-table, delicious recipes to satisfy any culinary whim any time of the day. Delectable breakfast fare, light lunch bites, family-pleasing dinners, simple appetizers and snacks, sassy cocktails, and more.
Most recipes prepared in 30 minutes or less.
All-new bonus chapters on red-hot topics: slow cooker favorites, restaurant remakes, and kid's cooking.
Time-saving tips for shopping, prepping, leftover storage, and Sandra's brand recommendations for success.
Wine suggestions to create delicious dining occasions every day.
Beautiful photo of every recipe.
See More
Introduction by Wolfgang Puck.
Letter from Sandra.
Smart Shopping.
Disposables and Brand Names.
Prepping, Cooking, & Cooling Times.
Safe Slow Cooking.
Leftovers and Storage.
Wines - Serving and Cooking.
Chapter 1. Breakfast.
Chapter 2. Lunch.
Chapter 3. Dinner.
Chapter 4. Appetizers and Cocktails.
Chapter 5. Soups and Salads.
Chapter 6. Restaurant Remakes.
Chapter 7. Slow Cooker Meals.
Chapter 8. Snacks.
Chapter 9. Desserts.
Chapter 10. Gravies and Sauces.
Chapter 11. Kid's Cooking.
See More
Sandra Lee is host of two popular shows on Food Network, Sandra's Money Saving Meals and the Emmy-nominated Semi-Homemade Cooking with Sandra Lee. A New York Times bestselling author and editor in chief of the Sandra Lee Semi-Homemade magazine, she is the foremost expert on how to make all areas of home life more beautiful and enjoyable for a fraction of the cost and time. For more information and great recipes, please visit the official Sandra Lee website at www.SandraLee.com.
See More