Sandra Lee Semi-Homemade Cooking Made Light
ISBN: 978-0-696-23266-4
237 pages
November 2006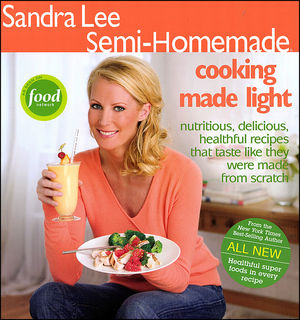 Enjoying great-tasting home-cooked food that's also good for you has never been so simple. For less than the cost of a dinner out, this new cookbook from Food Network star and best-selling author Sandra Lee will inspire you to re-think the way you cook. Her unique Semi-Homemade(r) cooking formula combines 70 percent ready-made and 30 percent fresh ingredients for fast, delicious results. Learn how to make the most of heart-healthy foods and smart ingredients like lean turkey, salmon, whole grain couscous, vitamin-packed sweet potatoes, and other "power foods." Includes more than 140 quick, easy and healthful recipes, plus gorgeous color photos of every recipe.
See More
Acknowledgment and Dedication.
Letter from Sandra.
Super Foods and Flavors.
Super fruits and Vegetables.
Grains Are Good.
The facts on Fat.
Shop Smart.
Ten Simple Steps to a Healthier Life.
Chapter 1. Breakfasts and Smoothies.
Chapter 2. Starters and Snacks.
Chapter 3. Salads and Soups.
Chapter 4. Pastas and Pizzas.
Chapter 5. Vegetarian.
Chapter 6. Fish and Seafood.
Chapter 7. Poultry.
Chapter 8. Meat.
Chapter 9. Sides and Accompaniments.
Chapter 10. Desserts.
See More
Sandra Lee is host of two popular shows on Food Network, Sandra's Money Saving Meals and the Emmy-nominated Semi-Homemade Cooking with Sandra Lee. A New York Times bestselling author and editor in chief of the Sandra Lee Semi-Homemade magazine, she is the foremost expert on how to make all areas of home life more beautiful and enjoyable for a fraction of the cost and time. For more information and great recipes, please visit the official Sandra Lee website at www.SandraLee.com.
See More