Sandra Lee Semi-Homemade 20-Minute Meals 2
ISBN: 978-0-696-23816-1
237 pages
October 2006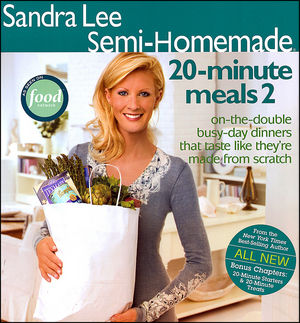 In Semi-Homemade 20-Minute Meals 2, Sandra Lee delivers another delicious collection of timesaving, shortcut meals that use the 70% store bought and 30% "fresh" or homemade formula. The cookbook features 60 perfect meal pairs, so there is no time wasted guessing which main dish will go with which side dish. And, if the occasion calls for it, there are chapters on tempting Treats and Starters, all designed to maximize flavor and minimize your time in the kitchen.
See More
Letter from Sandra.
sandra's savvy secrets.
Shortcut Solutions for Breakfast and Lunch.
Sandra's Select Tools.
Quick-to-mix Cocktails.
Chapter 1. Starters and Snacks.
Chapter 2. Pasta.
Chapter 3. Beef, Prork, and Lamb.
Chapter 4. Fish and Shellfish.
Chapter 5. Chicken and Turkey.
Chapter 6. Treats and Desserts.
See More
Sandra Lee is host of two popular shows on Food Network, Sandra's Money Saving Meals and the Emmy-nominated Semi-Homemade Cooking with Sandra Lee. A New York Times bestselling author and editor in chief of the Sandra Lee Semi-Homemade magazine, she is the foremost expert on how to make all areas of home life more beautiful and enjoyable for a fraction of the cost and time. For more information and great recipes, please visit the official Sandra Lee website at www.SandraLee.com.
See More