How to Succeed in 12 Months: Creating a Life You Love
ISBN: 978-0-7303-0866-9
240 pages
August 2014, Wrightbooks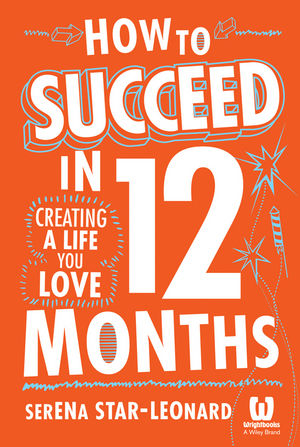 Step into the more fabulous version of your life
Think about where you are in life right at this moment. How does it compare with your dreams? You may have let go of a few life goals over the years, as "real life" took over and made grand gestures seem like impractical fantasies. But no matter where you are on your life's journey, it's not too late to reclaim your dreams and achieve the life you've always wanted! It's absolutely possible to design your own lifestyle instead of just allowing circumstance to dictate your daily routine.
How to Succeed in 12 Months: Creating a Life You Loveis your ultimate guide to turning your dreams into reality. Author Serena Star-Leonard is living the dream herself, having practiced what she preaches. In the book, she shares the secrets behind figuring out the steps that will get you the life you've always wanted, and taking those steps in leaps and bounds. It's not a get-rich-quick scheme, but a one-year plan to stepping out of your rut and into your most fulfilling life. Star-Leonard provides a roadmap to:
Breaking your dreams into small, actionable steps
Eliminating excuses and gaining confidence
Prioritizing your goals for better planning
Designing your lifestyle around your interests
Whether you've been looking for a way to work closer to your dreams, or are just looking for a way out of the rat race, Star-Leonard is your guide to make big things happen. How to Succeed in 12 Months: Creating a Life You Love is the key that opens the door to a more fabulous version of your life.
See More
1. What is lifestyle design?
2. What have you got right now?
3. Creating life changing goals
4. Making it real
5. Confidence and attitude
6. Money
7. Support system
8. Taking action
9. Making the impossible, possible
See More
May 06, 2014
How To Succeed In 12 Months: Creating a Life You Love
Connect with Wiley Publicity
Serena-Star Leonard always knew there was more to life than the 9-5 corporate grind. In 2006 she made the bold decision to leave her lucrative career in IT and start her first small business.
In 2009 she began her first 12-month, life-changing project: to create an income she could earn working one day a week from anywhere in the world through blogging.
Four years on Serena is still living her dream lifestyle; travelling the world visiting remote places and filming mini-documentaries about inspiring community projects for her new project 'five point five'.
From the best-selling author of How to Retire in 12 Months, this sequel, How to Succeed in 12 Months, is designed to enable you to start living your passion. Whether you want to travel the world, start a business, make a difference or change the way you live your life, this book shows you how to transform your world within a year.
Written for those who have a dream but don't think they have the resources or ability to make it a reality,Serena shares the secrets and steps that will help you achieve the life you've always wanted one step at a time.
The strategy behind Serena's success is based on taking action on the big goals and dreams that many people ignore. It is taking action that will enable you to achieve the things that are really important to you.
"The quickest way to create a life of freedom and fulfilment is to be daring and work hard to do what it takes to fulfil your dreams now, even if they seem impossible," says Serena.
Whether you want to sail the world with your family start a business, write a book, campaign for law changes or make the world a better place, this book will help you take the first steps, overcome all obstacles and get moving so that you can change your life dramatically for the better.
See More