Success as a Real Estate Agent for Dummies - Australia / NZ, Australian and New Zealand Edition
ISBN: 978-0-7303-0911-6
384 pages
July 2015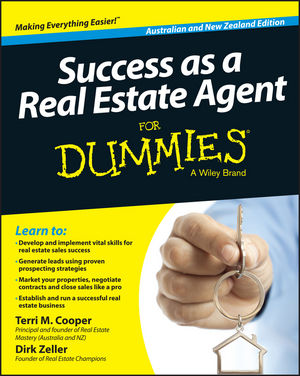 Your no-nonsense guide to becoming a successful real estate agent in the Australian and New Zealand markets

As the Australian and New Zealand housing markets begin to recover, now is the time to make the jump to your new career as a real estate agent. If you're already an agent, it's a great time to sharpen your skills and increase your commissions. Success as a Real Estate Agent For Dummies provides the foundation and advice you need to become a real estate superstar. Written specifically for agents and potential agents in Australia and New Zealand, this handy, plain-English guide gives you all the tools you need to bring in new prospects, close sales, build a referral base, plan open houses, present and close listing contracts, and give yourself a leg up on the competition. Whether you want to get involved in commercial or residential real estate, you'll find all the guidance you need to do it right.
Includes handy tips and tricks for working with buyers
Offers practical advice on prospecting and generating leads online, including how to use social media
Presents tried-and-true tactics and fresh ideas for closing deals
Whether you're looking to get started in real estate, or you're a working agent who wants to up your game, Success as a Real Estate Agent For Dummies gives you the tools and insight you need to compete—and succeed.
See More
Introduction 1
Part I: Getting Started with Real Estate Sales Success 7
Chapter 1: Discovering the Skills of a Successful Sales Agent 9
Chapter 2: Selecting the Right Company 25
Chapter 3: Becoming a Marketplace Expert 47
Part II: Generating Leads for Buyers and Sellers 59
Chapter 4: Prospecting Your Way to Listings and Sales 61
Chapter 5: Using Social Media to Create an Online Presence 83
Chapter 6: Generating Referrals 97
Chapter 7: Traditional Lead Targets That Work: Expired, Withdrawn and FSBO Listings 119
Chapter 8: Using an Open House as a Prospecting Tool 143
Part III: Developing a Winning Sales Strategy 161
Chapter 9: Conducting a Quality Listing Presentation 163
Chapter 10: Getting the House Ready for Showing 191
Chapter 11: Marketing Yourself and Your Properties 211
Chapter 12: Negotiating the Contract and Closing the Deal 239
Part IV: Running a Successful Real Estate Business 257
Chapter 13: Staking Your Competitive Position 259
Chapter 14: Keeping Clients for Life 277
Chapter 15: Maximising Your Time 303
Part V: The Part of Tens 327
Chapter 16: Ten (Almost!) Must-Haves for a Successful Real Estate Agent 329
Chapter 17: Ten Bulletproof Tips for Listing Presentations 335
Chapter 18: Ten Tips for Navigating Distressed Sales 343
Appendix: Useful Resources and Websites 351
Index 353
See More
Terri M. Cooper has been a highly successful sales agent for over 17 years, and is the principal and founder of Real Estate Mastery (Australia and NZ), which offers customised nationally accredited real estate courses. Dirk Zeller is a bestselling author and one of the leading real estate agents in North America. He is the founder of Real Estate Champions — a well-respected real estate coaching company with clients worldwide.
See More