Conscious Marketing: How to Create an Awesome Business with a New Approach to Marketing
ISBN: 978-0-7303-0964-2
216 pages
July 2015, Wrightbooks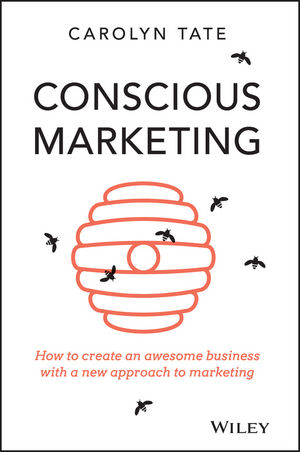 In the modern economy, businesses must have heart
The marketing industry is broken. Consumers are tired of interruption, push, mass media and the manipulation of marketing and advertising generally. They want to deal with honest, ethical companies that have heart and purpose and that care about serving all their stakeholders instead of their pockets. Conscious Marketing proves that marketing can really work if the paradigm is shifted—radically. In Conscious Marketing: How to Create an Awesome Business With a New Approach to Marketing, author Carolyn Tate demonstrates just how beneficial this shift can be. By practising the four tenets of conscious marketing, companies can raise their brand's profile and attract customers for life. The book shows how building a business with a higher-purpose can lead to sustainability, profitability and industry leadership. Conscious marketing works for both multinational corporations and cash-strapped small business alike.
In the modern market, a business that does well and contributes to the elevation of humanity and the planet attracts the best customers, employees, suppliers and investors. These people evangelize, and the brand reach expands exponentially further and to a more loyal audience than traditional marketing will ever capture. This concept and other topics in the book include:
What's wrong with marketing and why it doesn't work
What "conscious" means to the consumer, business, leader and marketer
The who, what, why and how of conscious marketing
Navigating the shift from traditional to conscious practices
The book includes a three-part guide to crafting an actionable plan, including where to find help. Marketing doesn't have to be the budgetary dead weight it has become. It can be fun, human and inspiring for everyone involved, but change requires a deep shift in thinking and behaviour that goes way beyond the transaction or the sale. To stay relevant in the modern economy, businesses must show what's at their core, why they do what they do and why it matters. Conscious Marketing is a comprehensive guide to fixing the problem, with a sustainable solution.
See More
About the author ix
Acknowledgements xi
Preface xiii
Part I: The current state of marketing 1
1 The problem with marketing 3
2 The evolution of consciousness 29
Part II: The reinvention of marketing 49
3 Introducing conscious marketing 51
4 Personal consciousness — an essential ingredient for conscious marketing 59
5 Purpose (why) — the thing that keeps you keeping on 69
6 Product (what) — those things you offer that improve lives 87
7 People and planet (who) — the partners in your business community 101
8 Promotion — how you spread the word 121
Part III: Shifting from theory to action 145
9 The conscious marketing shift — 10 solid principles to adopt 147
10 Your conscious marketing action plan 167
Conclusion 175
Afterword by Billy Stafford 177
The Conscious Marketing Manifesto 179
Useful resources for conscious business owners 183
Index 187
See More
CAROLYN TATE is a speaker and educator and the founder of The Slow School of Business, a school dedicated to helping companies build purpose-driven and prosperous businesses that make the world a better place. Carolyn is also the author of Small Business Big Brand, Marketing Your Small Business For Dummies and Unstuck in Provence. Visit slowschool.com.au or carolyntate.co.
See More