Edupreneur: Unleashing Teacher Led Innovation in Schools
ISBN: 978-0-7303-2922-0
208 pages
June 2016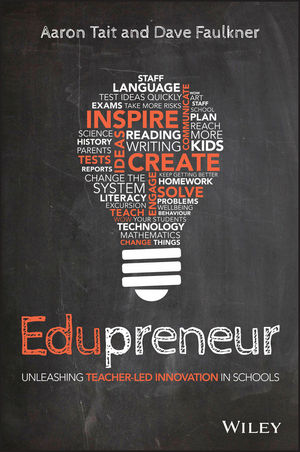 If you can change education, you can change the world
Edupreneur gives teachers the "how." You already know what needs to be done to improve education, but you may lack the support and processes to bring it to life—and that's where this book comes in. You'll walk through the four stages of innovation—dreaming, digging, making and sharing—and learn how to unleash ground-shaking change from the classroom up. Straightforward, highly practical and kick-in-the-pants inspirational, this book is your new companion for making education work. You'll read about passionate teachers who have raised attendance from 40% to 90%; you'll read about principals who took on the worst-performing schools and turned them around; you'll read about leaders who had the courage to take the reins of a school and turn it from good to great—and you'll learn how they did it and how you're entirely capable of the same kind of revolutionary change. This is a book not just for challenging schools, but for all educators who are passionate about providing a great education for every student, every day.
Administrators, academics and politicians can debate endlessly about how to "fix our schools," ignoring the fact that their best innovators and catalysts of change are already right there in the classroom. You have plenty of ideas, so here's your license to make them happen. Edupreneur will help teachers in all schools to:
Identify ways to improve day-to-day practice
Overcome the challenges that hamper progress
Create new solutions that sidestep old roadblocks
Collaborate with similarly forward-thinking educators
Imagine what education could look like if teachers were practically equipped to bring exciting new ideas to the classroom every day. Edupreneur helps you be that kind of teacher you've always wanted to be, with a clear framework for truly bringing on the change.
See More
About us xi
First things first 1
(What we mean by 'edupreneurs')
Dream 21
(What am I passionate about?)
Dig 63
(Understanding the problem I am trying to tackle)
Make 91
(Building great solutions)
Share 143
(Impacting more kids with my idea)
Final bits 184
Thank you 191
See More
Aaron Tait and Dave Faulkner are the award-winning founders of Education Changemakers, where they draw on decades of teaching and leadership experience to help educators unleash teacher-led innovation in schools across Australia and around the world. Find out more at www.educationchangemakers.com.
See More