How to Retire in 12 Months: Turning Passion into Profit
ISBN: 978-0-7303-7516-6
184 pages
September 2011, Wrightbooks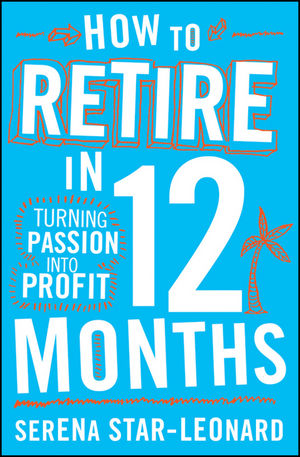 Are you sick of working day after day for someone else, dreaming of what you'll do one day when you retire? Why wait until you're old to enjoy retirement? How would you like to retire in 12 months?
Stop dreaming about a better life in the future – create one for yourself today!
If you're serious about getting the most out of life and want to discover how you can use your passions to pay your bills, then How to Retire in 12 Months is the book for you.
Author Serena Star-Leonard was handcuffed to a desk for years, working long hours in unfulfilling jobs. One day she stopped dreaming about a better life and created one for herself. She built an online business that allows her to work at something she truly loves, wherever and whenever she wants. Serena has redefined retirement and all it took was 12 months and a big dream.
Inside this book you will discover how to:
develop a low-maintenance income from your passion
get out of the rat race and build the life you want
retire in 12 months.
See More
Acknowledgements vii
Introduction 1
1 Your retirement (pipe) dreams 7
2 A fulfilling life (and why money won't buy it) 19
3 The success mindset 43
4 Finding your passion 63
5 How to make money online 79
6 How to sell yourself online 103
7 Creating your own products 127
8 What's next? 151
Glossary 161
Useful resources 165
Website examples 169
Index 171
See More
Serena Star Leonard is a serial entrepreneur who is passionate about her mission to retire young and teaching others to do the same. Serena's own 'passion income' is being developed through her internet strategy business grassrootsinternetstrategy.com.au. Her main business is star-coaching.net which offers entrepreneurs and business owners affordable, positive and experienced coaching/mentoring that will gives them the confidence to take action on their ideas and make a success of them. Through Star Coaching and retireyoung.com.au she is coaching others to also retire in 12 months with great success so far.
See More