Learn MYOB in 7 Days
ISBN: 978-0-7303-7592-0
288 pages
June 2012, Wrightbooks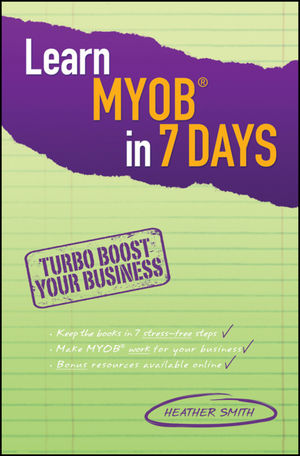 The step-by-step guide that takes the stress out of keeping your books with MYOB
This small business guide covers all the essentials, from setting up an account through to confidently producing financial reports, and all that's in between. In 7 quick and easy steps this book arms you with the knowledge you need to navigate your way through MYOB and will free up your time to focus on your business.
Packed full of tips, tricks and traps to avoid, this is essential reading for small business owners and bookkeepers wanting to quickly and easily learn MYOB.
See More
About the author vii
Acknowledgments ix
Introduction xi
Day 1: Accounts Command Centre and Card File Centre 1
Day 2: Banking Command Centre 59
Day 3: Sales Command Centre 95
Day 4: Purchase Command Centre 125
Day 5: Inventory Command Centre 161
Day 6: Payroll Command Centre 199
Day 7: The wrap 257
Glossary 299
Index 303
See More
Heather Smith is an MYOB Certified Consultant, Specialist Trainer and Accredited Author. With over 20 years of practical accounting experience, she has consulted and trained over 500 small businesses. A sought-after small business expert and speaker, Heather has written for The Daily Telegraph, Courier Mail and Woman's Day, as well as websites including ninemsn and Flying Solo. Bonus resources can be downloaded from the author's website at www.learnMYOBin7Days.com.
See More