E-book
Richard Pratt: One Out of the Box: The Secrets of an Australian Billionaire
ISBN: 978-0-7303-7612-5
288 pages
January 2011, Wrightbooks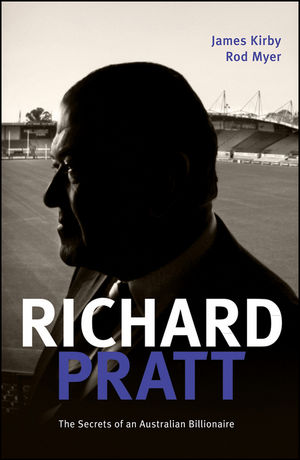 Richard Pratt was one of Australia's most successful, formidable and charismatic businessmen. Yet for all this he was unfailingly human, his life playing out like a drama even after the final act. 
Self-made billionaire, family man, generous philanthropist, patron of the arts and Carlton Football Club saviour were just a few of Pratt's many guises, and in this compelling biography the truth behind the headlines is revealed. The twists and turns of Pratt's life are chronicled with candour -- from humble beginnings in Poland to the heights of global business success tainted by the humiliating price-fixing scandal that earned Visy the largest corporate fine in Australia's history. 
Pratt's many achievements and controversies polarised public opinion but made him one of Australia's most enigmatic public figures. Though his legacy is debatable, no-one can deny that Richard Pratt was ... one out of the box.
See More
About the authors vii
Acknowledgements ix
Introduction: the last days of a king xi
1 From Poland to Shepparton and beyond 1
2 The beginning of an empire 19
3 Keeping it in the family 41
4 The unreasonable man 57
5 Working fi ve to nine 81
6 Giving back 101
7 A European affair 121
8 No shrinking violet 133
9 True blue Aussie 147
10 Mr Fix-it 169
11 The legacy of a Cardboard King 187
Notes 197
Index 205
See More
James Kirby
is Managing Editor of online investment magazine Eureka Report and a weekly columnist on
The Sunday Age
. In the past he has worked for
The Australian Financial Review
and
The Australian
, as well as writing for
Business Review Weekly
. James has written several books for John Wiley & Sons, including
Richard Pratt: Business Secrets of the Billionaire Behind Australia's Richest Private Company
and
Gerry Harvey: Business Secrets of Harvey Norman's Retailing Mastermind
.
Rod Myer is a Melbourne-based writer and journalist with 25 years' experience in the Australian media. He has worked as a business writer for The Age, The Herald and the Herald Sun and has made radio documentaries for the ABC, 3RRR and Public Radio News. Rod also worked as a speech writer, political adviser and researcher for the Australian Democrats in the 1980s.
See More