E-book
365 Ways to Make Money: Ideas for Quick $ Every Day of the Year
ISBN: 978-0-7303-7623-1
288 pages
June 2011, Wrightbooks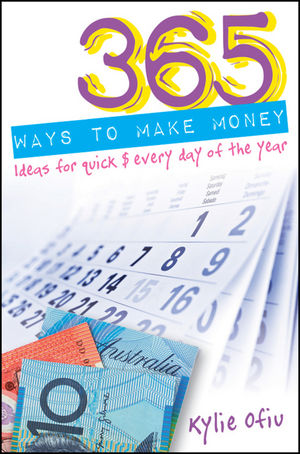 The how-to guide to making real money with little or no start-up costs
We'd all like to find out how to make money. 365 Ways to Make Money proves that you don't have to be a slick entrepreneur or become embroiled in get-rich-quick schemes to boost your cash flow. In fact, this guide shows that anyone can make money—up to thousands of dollars—with little or no start-up costs. This guide shows there are ways to make money, whether you are a stay-at-home parent, a student or a professional looking for extra income, or a hobbyist looking to convert your interest into cash.
365 Ways to Make Money is the ultimate inspirational, yet practical, guide to finding ways to earn extra income. With one tried-and-true idea for every day of the year, it looks at ways you can instantly put your ideas in to practice, providing money-making ideas from every area of your life—from your home and cars to your knowledge and interests.
More than just a list of ideas, this is a real how-to guide, with tried and tested strategies.
Unlike other moneymaking titles, this book also gives you the financial knowledge you need to support your moneymaking journey.
See More
About the author v
How to use this book vii
Getting started ix
Five things you need to become a millionaire xii
Part I Make money from home 1
Part II Make money from you 77
Part III Make money seasonally 91
Part IV Make money with animals 105
Part V Make money with cars 123
Part VI Make money with domestic ideas 139
Part VII Make money from your knowledge 177
Part VIII Make money with beauty 211
Part IX Make money with weddings 235
Marketing for free (and cheaply) 251
Solutions to excuses 256
A final word 266
The 365 ways to make money 267
See More
As one of nine children, Kylie Ofiu grew up devising ways to earn extra pocket money. Now that she's a grown-up, she blogs about ways to make money at www.kylieofiu.com. Kylie lives in Sydney with her husband and two daughters.
See More