Business of Share Trading: From Starting Out to Cashing in with Trading, 2nd Edition
ISBN: 978-0-7303-7629-3
440 pages
October 2012, Wrightbooks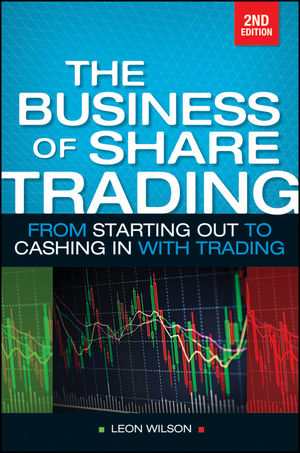 Successful trader and best-selling author Leon Wilson knows how to make a living trading on the sharemarket. He also knows that because trading requires discipline, time and self-education, 90 per cent of those who attempt it will fail within two years.
In concise and clear language, The Business of Share Trading, second edition, shows how you can take control and profit from an active sharemarket portfolio. From developing a plan and financing your capital investment, to setting up a home office and keeping accurate records, this newly expanded edition offers step-by-step guidance to all aspects of running a successful trading business.
Updated to reflect the changes that have occurred in the industry over the past decade, the Business of Share Trading contains everything you need to know about:
Fundamental, technical and combination analysis
Dealing with brokers, data suppliers, ISPs and information sources
Trend trading, break-out trading and reversal trading
Trade entities and exits, position sizing and stop-loss management.
See More
Acknowledgements vii
Introduction ix
Part I: Basic principles and techniques 1
1 A reality check 3
2 Basic nuts and bolts 13
3 How to get started 19
4 Tools of the trade 29
5 What should I trade? 53
6 The BeST trading plan 63
7 The BeST style and structure 75
8 Record keeping 89
9 In need of direction 105
10 Primary analysis basics 119
Part II: Indicators and opportunities 173
11 Secondary analysis basics 175
12 Trading opportunities 259
13 Sifting the gems from the junk 285
Part III: Bringing it all together 303
14 Trade management 305
15 Position sizing and stop-loss management 313
16 Synchronising, system testing and paper trading 353
17 The end product 369
18 Miscellaneous tools 379
Appendix A: Question time 389
Appendix B: Glossary 399
Appendix C: Other resources 403
Index 407
See More
Leon Wilson has been trading the markets for over 20 years and runs a successful share trading business. For more information visit www.tradersshop.com.
See More
Learn more about