E-book
Cycling For Dummies, Australian and New Zealand Edition
ISBN: 978-0-7303-7666-8
288 pages
July 2011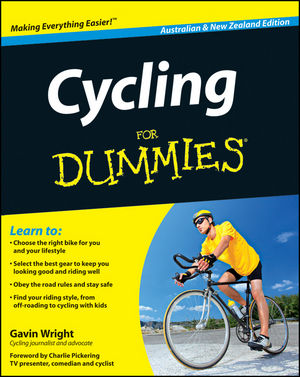 Discover the joys and benefitsof riding a bike
Whether you're looking to join the Lycra brigade, tear down mountain bike trails or simply teach yourself — or your child — how to ride, this practical guide covers all your needs, from choosing the right bike and accessories to hitting the road and trails. Improve your health and fitness, reduce your carbon footprint and have fun along the way!
Pick the bike and equipment that suit you — determine whether a road bike, mountain bike or something in-between is best for you

Find the time to incorporate cycling into your lifestyle — start commuting to work and plan your cycling schedule

Understand your rights and responsibilities as a cyclist — know the regulations that apply in your local area

Stay safe in traffic and off-road — be seen and heard, and feel confident when dealing with potential dangers and hazards

Train to improve — adopt programs to improve your speed and endurance on the road, or your fitness and skill for mountain biking

Prepare yourself and your bike for touring — research your route and transport options, get your bike ready and know what to pack

Get your kids on a bike — add a child to your bike, pick the right bike for your older child and teach your kids to ride the easy way

Maintain yourself and your bike — prevent or ease cycling ailments and learn how to repair and service your bike
Open the book and find:
How your bike should be adjusted to fit you

Advice on the easiest way to get on a bike and start pedalling

How to avoid dangers presented by cars, trucks, dogs and birds

Tips for riding with other people

Pointers on incorporating cycling into the school run

Guidelines for eating and drinking before, during and after cycling

The ten best rides in Australia and New Zealand

Ten great tours and races from around the world
Learn to:
Choose the right bike for you and your lifestyle

Select the best gear to keep you looking good and riding well

Obey the road rules and stay safe

Find your riding style, from off-roading to cycling with kids
See More
Foreword xvii
Introduction 1
Part I: Getting Ready to Swing Your Leg Over the Saddle 7
Chapter 1: Getting Into Cycling 9
Chapter 2: Picking the Right Bike 25
Chapter 3: Choosing the Right Gear 59
Chapter 4: Making Sure Your Bike Feels Good 83
Chapter 5: Finding the Time to Ride 95
Part II: Freewheeling Fundamentals 107
Chapter 6: Ticket to Ride: Your First Lesson 109
Chapter 7: Knowing the Rules 121
Chapter 8: Thinking Ahead for Safety 131
Chapter 9: Planning Your Trip and Tips for Safe Riding 143
Chapter 10: Toughening Up for Off-Road Riding 169
Part III: Rolling Beyond the Basics 177
Chapter 11: Training and Improving 179
Chapter 12: Touring and Exploring 197
Chapter 13: Cycling With Other People 221
Chapter 14: Riding with Babies, Toddlers and Children 239
Part IV: Maintaining Your Bike and Yourself 257
Chapter 15: Easing Ailments 259
Chapter 16: Fuelling Your Cycling 275
Chapter 17: Can You Fix It? Yes, You Can! 285
Chapter 18: Checks and Adjustments: The Next Step 303
Part V: The Part of Tens 315
Chapter 19: Ten Good Reasons to Ride a Bicycle 317
Chapter 20: Ten Bicycling Do's and Don'ts 327
Chapter 21: Ten Great Rides in Australia and New Zealand 333
Chapter 22: Ten Great Tours and Races around the World 345
Index 357
See More
Gavin Wright is one of Australia's most knowledgeable cycling journalists. A regular contributor to Australian Cyclist, he has also appeared on television and radio, talking about cycling and good health. Gavin has cycled the world and ridden with champions but is equally at home riding with beginners.
See More