E-book
Exchange-Traded Funds For Dummies, Australia and New Zealand Edition
ISBN: 978-0-7303-7697-2
360 pages
September 2011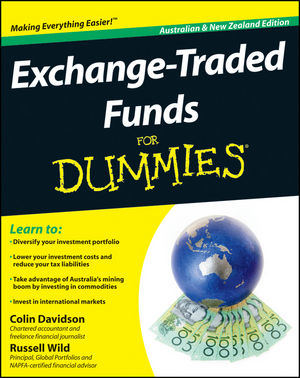 Diversify your investments with today's fastest growing financial product
Exchange-traded funds (ETFs) offer access to a range of investments in a single trade, are usually less volatile than individual stocks, cheaper than most managed funds and more tax-effective. But how do you pick the one that's right for you? This straightforward book helps you weigh up your options, build an effective portfolio and maximise your profits.
Get to know the major players in Australia and New Zealand — find a broker, open an account and familiarise yourself with suppliers and indices

Understand risk control and diversification — learn the importance of a diversified, lowly correlated portfolio, and how ETFs can help you achieve this

Invest smartly in commodities and precious metals — tap into the returns offered by the Australian mining boom

Manage small-cap, large-cap, sector and international investments — take advantage of returns in local markets and invest directly in US-listed ETFs

Add bonds, REITs and other ETFs — secure consistent yields and add property to your investment portfolio

Work non-ETFs into your investment mix — improve returns through careful selection of active managed funds

Fund your retirement years — determine how much you need for retirement, and how ETFs can get you there
Open the book and find:
Advice on choosing ETFs over options, CFDs and warrants

Sample portfolios

Tips on revamping your portfolio based on life changes

How to avoid mistakes that even experienced investors make

Forecasts for the future of ETFs in Australia and New Zealand

A complete listing of Australian and New Zealand ETFs

Great online resources to help you invest in ETFs
Learn to:
Diversify your investment portfolio

Lower your investment costs and reduce your tax liabilities

Take advantage of Australia's mining boom by investing in commodities

Invest in international markets
See More
Introduction 1
Part I: The ABCs of ETFs 7
Chapter 1: The (Relatively) New Kid on the Block 9
Chapter 2: What on Earth Is an ETF, Anyway? 25
Chapter 3: Working Out How ETFs Work 45
Chapter 4: Getting to Know the Players 61
Part II: Building the Equity Side of Your Portfolio 87
Chapter 5: Risk Control, Diversification and Some Other Things You Need to Know 89
Chapter 6: Domestic Bliss: Covering the Bases with Large Caps 107
Chapter 7: Small Caps: Big Potential 123
Chapter 8: Sector Investing: ETFs According to Industry 133
Chapter 9: Going International: ETFs without Borders 145
Chapter 10: Exploring ETFs Listed in the United States 163
Part III: Adding Other ETFs to Your Portfolio 189
Chapter 11: Real Estate Investment Trusts (REITs) and High-Yield ETFs 191
Chapter 12: All That Glitters: Gold, Silver and Other Commodities 211
Chapter 13: Working Non-ETFs into Your Investment Mix 229
Part IV: Putting It All Together 249
Chapter 14: Sample ETF Portfolio Menus 251
Chapter 15: Buying and Holding: The Key to ETF Investment Success 273
Chapter 16: Exceptions to the Rule — Rebalancing Your Portfolio 283
Chapter 17: Using ETFs to Fund Your Golden Years 303
Part V: The Part of Tens 323
Chapter 18: Ten Most Commonly Asked Questions about ETFs 325
Chapter 19: Ten Mistakes Most Investors (Even Smart Ones) Make 333
Chapter 20: Ten Forecasts about the Future of ETFs and Personal Investing 339
Part VI: Appendixes 347
Appendix A: Complete Listings of Australian and New Zealand ETFs 349
Appendix B: Great Web Resources to Help You Invest in ETFs 355
Glossary 363
Index 369
See More
Colin Davidson
has been involved in finance for over 20 years. A freelance financial journalist, he previously worked for one of Australia's largest stockbrokers, managing its financial planning and superannuation business. Colin is also the author of
Managed Funds For Dummies
.
Russell Wild, MBA, an expert in ETFs, is a fee-only investment advisor and the principal of Global Portfolios.
See More