E-book
The Mining Valuation Handbook: Mining and Energy Valuation for Investors and Management, 4th Edition
ISBN: 978-0-7303-7709-2
176 pages
May 2012, Wrightbooks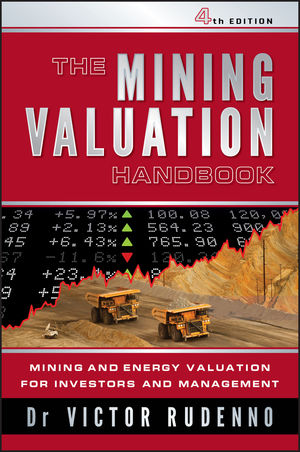 The essential guide to investing in mining opportunities, now in its Fourth Edition
A comprehensive guide to mining investment analysis designed for use by financial and mining analysts, executives, and investors, The Mining Valuation Handbook: Mining and Energy Valuation for Investors and Management has become an essential resource for assessing the value and investment potential of mining opportunities. Fully revised and updated, this fourth edition of the classic text provides new and up-to-date information to better explain the mysteries surrounding the resources industry.
Written by Victor Rudenno, a leading global expert on mining investment analysis and consultant to mining companies, financial bodies, and governments, The Mining Valuation Handbook: Mining and Energy Valuation for Investors and Management, Fourth Edition covers a wide range of essential topics, including: feasibility studies, commodity values and forecasting, classification of resources and reserves, indicative capital and operating costs, valuation and pricing techniques, qualifying risk, the impact of exploration and expansion, and more.
Fourth edition of the bestselling text on assessing mining investment opportunities
Author Victor Rudenno is a respected global expert on mining investment analysis
Key topics, including feasibility studies, valuation techniques, and risk qualification are covered in detail
Packed with invaluable mining information for the financial industry and financial information for the mining industry, The Mining Valuation Handbook is the definitive guide to assessing and investing in mining opportunities.
See More
Acknowledgements ix
Introduction xi
1 The resources industry 1
2 A quick guide to financials 13
3 Feasibility studies 21
4 Commodity values and forecasting 41
5 Resource project considerations 67
6 Classification of resources and reserves 97
7 Mining and hydrocarbon recovery 113
8 Indicative capital and operating costs 151
9 Hedging commodities and exchange rates 235
10 Taxation, depreciation, royalties and accounting standards 245
11 Valuation methodologies 265
12 Takeovers and fair value allocation 299
13 Quantifying the risk 317
14 Cutoff grade theory 329
15 Share price performance and real options 337
16 Impact of exploration, development and expansion 357
17 Determining the appropriate discount rate 381
18 Dealing with inflation 391
19 Agricola Mining — a hypothetical example 397
20 Commodity profiles 417
Appendix A: Sources of information 495
Appendix B: Australian Native Title 501
Appendix C: Royalty rates 505
Appendix D: Economic geology primer 517
Appendix E: Project details 523
Appendix F: Exchange rates and CPI 541
Appendix G: Continuous discounting and annuities 545
Appendix H: Abbreviations, conversions and energy factors 547
Glossary 555
Bibliography and references 593
Index 597
See More
DR VICTOR RUDENNO holds a Bachelor of Mining Engineering, a Master of Commerce and a PhD in Mining Economics. He is a Senior Fellow of the Financial Services Institute of Australasia and a Fellow of the Australasian Institute of Mining and Metallurgy. Victor has worked for leading stockbrokers and investment banks and, for over 35 years, has been lecturing to university students, industry practitioners, investors and fund managers around the world. He consults to industry and government and can be contacted through www.revaluate.com.au.
See More