E-book
Speed Learning for Kids
ISBN: 978-0-7303-7721-4
208 pages
October 2012, Wrightbooks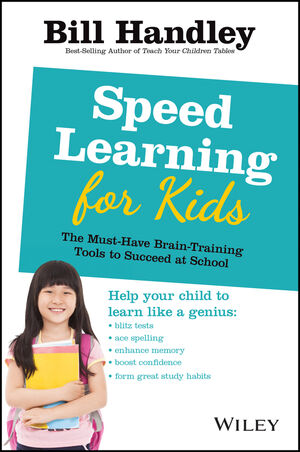 Proven strategies to help kids learn faster and better, from bestselling author Bill Handley
Kids who succeed at school aren't necessarily smarter than other kids. Often, they're simply better at learning. Speed Learning for Kids helps you teach your child how to thrive at school by learning more in less time with less effort. The brain-training techniques in this book will enable kids to not just learn faster, but enjoy their learning, memorise as they go, and absorb as much in ten minutes as they normally would in two hours of study.
How is it possible? These nontraditional techniques aren't mysterious, they're just not often taught. Any child can learn to learn, and the results really matter—with improved concentration, better short- and long-term memory, more creative thinking, and better memory and reading comprehension skills.
Includes study techniques that replace rote learning to achieve better test results on everything from spelling tests, NAPLAN and entrance exams
Written by Bill Handley, author of the bestselling books Teach Your Children Tables and Speed Maths for Kids
Features brain-training techniques that will not only improve school performance, but also improve problem-solving and creative thinking for long-term career success
If you want to give your kids a boost in school, Speed Learning for Kids offers proven, effective strategies and techniques that lead to success in the classroom and beyond.
See More
Acknowledgements vii
Introduction ix
Part I: The brain-training tools 1
1 Making mental pictures 3
2 Using rhyming reminders 15
3 Learning look-alike reminders 31
4 Creating logical reminders 37
Part II: Learn like a genius 47
5 How to learn to spell like a genius 49
6 How to solve problems like a genius 57
7 How to write like a genius 65
8 How to summarise information like a genius 81
9 How to speak like a genius 85
10 How to learn a language like a genius 91
11 How to sit tests like a genius 101
Part III: Some more fun with speed learning 109
12 Playing a memory party game 111
13 Learning word-for-word 121
14 Memorising big numbers 131
15 Learning the US presidents 147
Afterword 155
Frequently asked questions 157
Index 165
See More
Bill Handley is an internationally recognised authority on study methods and mathematics, based in Melbourne. He is the author of many best-selling titles, including Teach Your Children Tables and Speed Maths for Kids.
See More