Why Women Shop: Secrets Revealed
ISBN: 978-0-7314-0279-3
208 pages
September 2005, Wrightbooks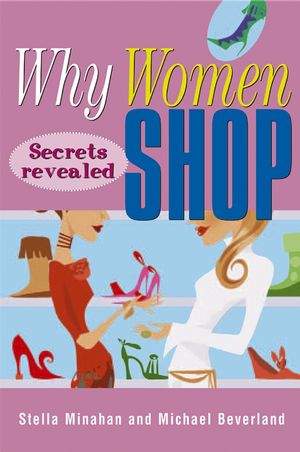 Women who shop are an extraordinary force in retail. They are knowledgeable and astute - and they are very clear about how much their financial power and use of word of mouth can help or hinder a retail business. Why Women Shop provides a fascinating insight into female shopping habits, much of which will register with the shoppers themselves as they gain a better understanding of their shopping style, and laugh (or shudder) in recognition at other women? shopping experiences. The book is dedicated to all the many and varied women who shop: * 'Ms Grab and Go' - who is time poor, quick and targeted in her purchasing * the lone browser - who can wander around for hours, soaking up the latest trends * the retail therapy seeker - who is seeking company and purchases to fulfil her inner needs * the girls?day out shopper - who shops in packs, is happy and relaxed, wears sensible shoes and carries numerous bags * the hunter - who is alert, serious and focused on finding a bargain. The global research behind this book provides invaluable information for retailers, marketers, manufacturers of consumer goods, advertisers, visual merchandisers, property developers, salespeople, or anyone who has dealings with the retail industry.
See More
Chapter 1: 'Because we can!'
Chapter 2: Going into town to shop.
Chapter 3: What type of shopper are you?
Chapter 4: Why do women shop the way they do?
Chapter 5: What do women like about shopping?
Chapter 6: What do women hate about shopping?
Chapter 7: Improving the store.
Chapter 8: Improving in-store service.
Chapter 9: Men and shopping - it's a guy thing.
Chapter 10: Secrets revealed!
References.
Index.
See More
Stella Minahan
has had a career in retailing both as an owner/manager with a textile shop in Melbourne and as a senior manager at Coles Myer. Later she worked lecturing to post graduate students interested in the retail and wholesale trade. She is now a senior research fellow at Deakin University in Melbourne where she has been exploring more of the recreational nature of shopping. She also hates shopping.
Michael Beverland is a senior lecturer in marketing with the University of Melbourne with expertise in branding and consumer behaviour. Michael is also a keen shopper with a passion for design, good wine and luxury brands. He is an ideal researcher for this book as he is one of the very few men around who knows the price of a Dior lipstick and Prada shoes.
See More