Follow the Smart Money: Discover How to Make Winning Trades on the Australian Sharemarket
ISBN: 978-0-7314-0441-4
208 pages
April 2007, Wrightbooks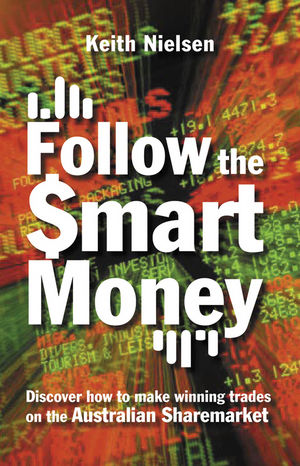 Deciding which stock to buy is one, if not the most, important part of share trading. In
Follow the Smart Money
author, trader and market analyst Keith Nielsen shares his common-sense methods for selecting the right stocks. Find out how you can:
benefit from the stock recommendations of multiple brokers
discover what trades company directors are making
follow market depth.
The smart money techniques explained in this insightful book will not only help you decide which stocks to pick but will also help you identify the best times to buy and sell. Keith also introduces a new tool for your trading artillery an an essential part of finding that smart money -- the Nielsen Supply Demand Indicator.
Using case studies, Keith shows how combining these methods can produce outstanding results. Whether you are new to the stock market of simply looking for a way to improve your trading performance, this book can help. These simple common-sense tools will ensure you are picking the right stocks and on your way to becoming a more profitable trader in no time!
What are you waiting for? Go on, follow the smart money!
See More
Introduction
1 Getting started
2 Fundamental analysis
3 Technical analysis
4 Following broker recommendations
5 Following company directors
6 Following market depth
7 Following the really smart money
8 Case studies
9 Conclusion
Appendix A: My 15 golden rules
Appendix B: Advice from active traders
Appendix C Accessing the Nielsen Supply Demand Indicator
Index
See More
Keith Nielsen is founder and CEO of the Inside Trader www.theinsidetrader.com.au a well-respected stock market research company, and inventor of the Nielsen Supply Demand Indicator. Keith has a diploma in financial markets (SIA), is an affiliate member of the FINSIA and a member of the Financial Planners Association. He lives in Brisbane with his wife and two daughters.
See More
Learn more about