How to Give Your Kids $1Million Each!: (And It Won't Cost You a Cent)
ISBN: 978-0-7314-0538-1
240 pages
October 2006, Wrightbooks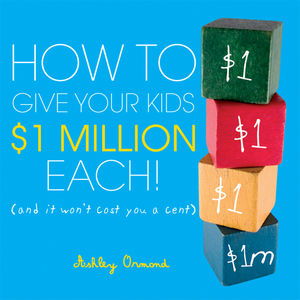 This book appeals to every parents desire to provide wealth and security for their children, taking a simple, fun, low-risk approach. Ashley Ormond outlines a very simple plan for parents not only to build wealth for their kids but also to help teach them about money - how it works, how to manage it and how to make it grow. In a nutshell the plan is: $1.00 per day + 1 hour per month = financial security for life. If parents start on the plan when the child is born, put a dollar a day into an investment fund, invest in growth assets and reinvest all the earnings, the fund will grow to $1,000,000 when the child is 50 years old. As soon as your kids are old enough, you are encouraged to get them involved in their very own savings plan. The book comes with a money box that your children can cut out and piece together and start filling up! Sydney author, Ashley Ormond, has spent 25 years in the finance industry - 15 years in major banks and 10 years as a private consultant. He is a semi-retired 40-something and as well as embarking on a career as an author he sits on various boards. Ashley draws on his personal experience in developing the plan for his own two kids and his many years in the finance industry giving people financial solutions that actually work.
See More
Preface ix
Part I — On your marks
1 Giving your kids $1 million each 3
Part II — Get ready
2 Finding $1 per day 25
Part III — Get set
3 Getting started 55
4 Investment basics 95
Part IV — Go!
5 Company shares 147
6 Property investments 213
7 How the fund grows over time 239
8 Handing the plan over to the kids 253
9 Where to fi nd out more 277
Glossary of terms 285
Index 289
See More
Ashley Ormond has spent over 20 years in the finance industry, working with major Australian and international banking groups, including over 10 years at senior? executive levels. He also runs a private consultancy, advising businesses and business owners on corporate finance and strategy, and is the owner and principal of Investing 101 Pty Ltd. He has been a director of listed, private and not-for-profit companies, and holds a bachelor of arts in economics from Deakin University, a bachelor and master of laws from the University of Sydney, and a graduate diploma of applied finance and investment.
See More