Sorting Out Your Finances For Dummies, Australian Edition
ISBN: 978-0-7314-0746-0
360 pages
September 2011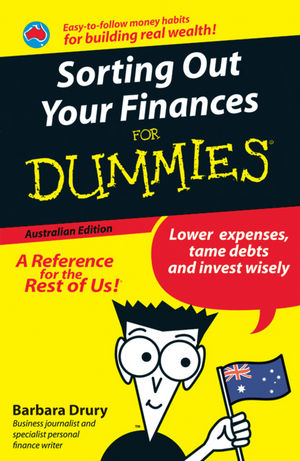 Created especially for the Australian customer!
Turn over a new leaf, painlessly and profitably
Do you dream of a financially secure future, but find personal finance planning too overwhelming? Sorting Out Your Finances For Dummies, Australian Edition, gives you the confidence to take stock, set goals and chase rainbows. Written in plain English, this book shows you how to budget your money, work out an investment plan and choose the right assets for a wealthier future.
Discover how to:
Work out a budget and stick to it
Find a first rate financial planner
Find the right loans for you and manage your mortgage
Prune your tax bill
Map out a superannuation plan
See More
Barbara Drury is a personal finance and business writer for publications in Australia and overseas. She is a regular contributor to the Sydney Morning Herald and the Age, and has co-authored The Fairfax Experience: What the Management Texts Didn't Tell Me with Fred Hilmer.
See More