What is Medieval History?
ISBN: 978-0-7456-3932-1
176 pages
February 2008, Polity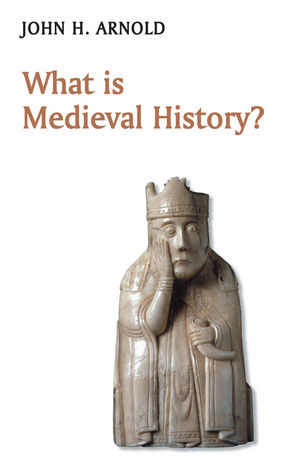 What is it that medieval historians do? And how and why do they do it?
What is Medieval History?
provides an accessible, far-ranging and passionate guide to the study of medieval history. The book discusses the creation of the academic field, the nature of the sources, the intellectual tools used by medievalists, and some key areas of thematic importance from the fall of the Roman Empire to the Reformation.
Students, teachers, researchers and interested general readers will find the book an invaluable guide. The author explores his field through numerous fascinating case studies, including a magical plot against a medieval pope, a fourteenth-century insurrection, and the importance of a kiss exchanged between two tenth-century noblemen.
Throughout the book, readers are shown not only what medieval history is, but the cultural and political contexts in which medieval history has been written. And, above all, What is Medieval History? demonstrates why the pursuit of medieval history continues to be important to the present and future world.
See More
• Specifically designed for use by undergraduate students with no
previous knowledge of medieval history, by an author with proven
expertise in making concepts accessible
• Gives an overarching account of the discipline of medieval history,
showing students how it is done and how to do it
• Employs numerous fascinating case studies to bring medieval history to
life and inspire enthusiasm in students
• Highlights the social and cultural contexts in which medieval history has
been practiced.
• Emphasises why the study of medieval history is still important today
and why it should continue to be studied
• A unique book – there is nothing else like it available
See More
"This stimulating and nuanced book should be required reading for, at the very least, all of those taking Master and Doctoral degrees in the period and it will give those already 'in the field' at schools and universities much to reflect upon."
BBC History Magazine
"An excellent addition to the Polity 'What is History?' series ... Arnold introduces a huge topic in a way that will capture the attention of those who are new to medieval studies, while also engaging the interest of those who are more expert in the field."
English Historical Review
"One of the great joys of What is Medieval History? is its consistently optimistic treatment of the challenges of practising, and indeed, justifying, medieval history. If you need to be reminded why you do what you do, why you love it and why it matters, look no further."
Parergon, Journal of the Australian and New Zealand Association for Medieval and Early Modern Studies
"A stimulating and very readable little book."
Medieval Archaeology
"As Arnold argues in this very readable little book, the subject/ period is one of vitality and movement. Like many of us, he appears optimistic about its future."
History
"A lively and thorough introduction for students embarking on the study of the period."
Year's Work in English Studies
"Acute and wide-ranging, engaging and up-to-the-minute. It will be essential reading for students of medieval history at all levels, and a stimulating challenge to their teachers, medievalist and non-medievalist alike."
Chris Wickham, University of Oxford
"Explains what every would-be medievalist needs to know and is seldom told. With matter-of-fact prose and a bundle of good stories, John Arnold gently walks his readers through the basics of the field--development, sources, methods, debates, and relevance. For both students and their teachers, every page of this book will enlighten, inform, and amuse."
Judith Bennett, University of Southern California
"Strong on content and structure, and both original and challenging, while remaining accessible to its readership. The main points, about concepts and debates, are all very well illustrated."
Dame Janet Nelson, King's College London
See More
More in this series