Imperialism and Global Political Economy
ISBN: 978-0-7456-4046-4
Paperback
288 pages
July 2009, Polity
US $24.95

Add to Cart
This price is valid for United States. Change location to view local pricing and availability.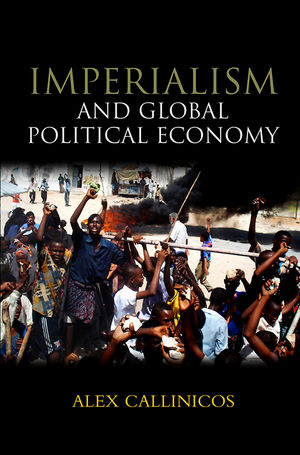 Epigraph

Introduction: Empire of Theory, Theories of Empire

Part I: Theory

1. The Classical Legacy

1.1 Continuing Marx's Capital

1.2 Luxemburg's fertile diversion

1.3 The Lenin-Bukharin synthesis

1.4 Organized capitalism and economic crises

1.5 Spectres of ultra-imperialism

2. Capitalism and the State System

2.1 Rethinking the theory of imperialism

2.2 Conceptualizing the state system

2.3 Interests and ideologies

Part II: History

3. Capitalism and La Longue Durée

3.1 What is capitalism?

3.2 Markets and empires

3.3 The sinews of capitalist power

4. Ages of Imperialism

4.1 Periodizing imperialism

4.2 Classical imperialism (1870-1945)

(i) A liberal world economy

(ii) An economically and politically multipolar world

(iii) Territorial expansion

(iv) Military competition and state capitalism

(v) Race and empire

4.3 Superpower imperialism (1945-1991)

(i) Open Door imperialism

(ii) The partial dissociation of economic and geopolitical competition

(iii) The Third World – malign neglect and partial industrialization

5. Imperialism and Global Political Economy Today

5.1 The specificity of American imperialism

5.2 Global capitalism at the Pillars of Hercules?

(i) Entrenched uneven development

(ii) A persisting crisis of profitability

(iii) A redistribution of global economic power

(iv) Continuing geopolitical competition