Moscow, 1937
ISBN: 978-0-7456-5076-0
Hardcover
650 pages
August 2012, Polity
US $35.00

Add to Cart
This price is valid for United States. Change location to view local pricing and availability.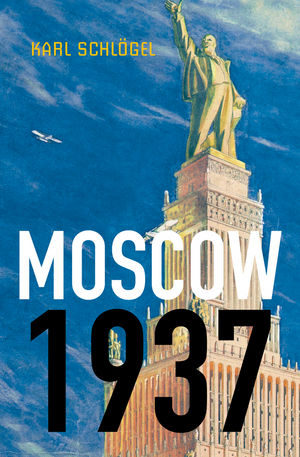 Winner of the Leipzig Book Prize for European Understanding


"An almost impossibly rich masterpiece. The density and seriousness, the deliberation and literary art of this exhilarating tour de force testifies to the enduring value and purpose of that perhaps now-vanishing triumph of the human intellect, the book."
The Atlantic, best five books of 2012
"A dizzyingly brilliant panorama of the enormous variety of events and processes unfolding in Moscow between 1936 and 1938. Schlogel succeeds admirably - indeed, better than any historian to date - in reproducing the atmosphere and grotesque contradictions."
Times Higher Education
"Exceptionally readable. An extraordinary, thought-provoking masterpiece."
Literary Review
"Schlögel's total history of Moscow during the fateful year ranks among the best of Sovietology."
International Affairs
"No book could be more equal to the task of restoring Stalin's victims to Western memory than Schlögel's
Moscow, 1937
- it is an extraordinary work of scholarship, prose and remembrance."
Times Literary Supplement

"Compelling in every way, the book startles the mind and stirs the imagination in the way that only poetry and music can sometimes do. An instant classic."
Wichita Eagle
"Karl Schlögel's Moscow 1937 draws a living, multi-dimensional portrait of the megacity in a crucial year of upheaval that evokes all the hope, despair, creativity, horror, escapism, terror, fear, and striving that enveloped the Muscovite cityscape and its inhabitants. Schlögel is an unusually inventive historian and a brilliant stylist; it's a great boon to have his latest work available in English.
"
Norman M. Naimark, Stanford University and author of Stalin's Genocides
"This book's focus is one year, 1937, and one place, Moscow, but it is no narrow history. The narrative has sweep and depth, encompassing the mundane, the spectacular, and the nightmare dream world of Stalin's purges; an incomparable book about people during one of the most grandiose and terrifying epochs of the twentieth century."
David Shearer, University of Delaware
"Starting from a birds-eye view of the city from above, a homage to the flight of Bulgakov's Margarita, Schloegel captures the complex specificity of a time and place of immense significance in Soviet and twentieth-century history. In this multivalent historical moment, interrogations at the Lubyanka coexist with happy summer vacations and the triumphant conquest of the North Pole by Soviet aviators. Schloegel brings into play an ingenious variety of sources, ranging from architectural blueprints and city directories to execution records, not forgetting diaries and literary evocations. This is a masterful, panoramic work by a gifted story-teller who is also a highly innovative, sophisticated and erudite historian."
Sheila Fitzpatrick, University of Chicago
"In brilliant fashion Karl Schlögel presents Moscow as a rotating stage of Soviet desire and Stalinist nightmares. Like no other author before him, he charges his prose and the sequence of scenes with the hallucinatory power of the Communist project. The vertiginous and terrifying effect is his very point and singular achievement."
Jochen Hellbeck, Rutgers University
"Karl Schlogel's Moscow 1937 is a brilliant essay of "Total history" on a crucial episode of Soviet history, on one of the greatest historical catastrophes of the Twentieth Century.This is the first book which goes beyond totalitarianism and revisionism and brings us a totally new interpretation of this tragic event by presenting together opposing experiences and manifestations such as the preparation for universal, free, direct and secret elections and carefully planned, organized mass killings. Or, in other words, Dream and Terror."
Nicolas Werth, Institut d'histoire du temps présent


"This is a montage of a great city in tumult, in equal parts depicting the optimism of progress and the horror of the show trials, all in the shadow of a looming war."
Andrew Cornish, Readings
Buy Both and Save 25%!
Moscow, 1937 (US $35.00)
-and- The Night Cleaner (US $19.95)
Total List Price: US $54.95
Discounted Price: US $41.21 (Save: US $13.74)
Cannot be combined with any other offers. Learn more.