Writings on War
ISBN: 978-0-7456-5296-2
304 pages
August 2011, Polity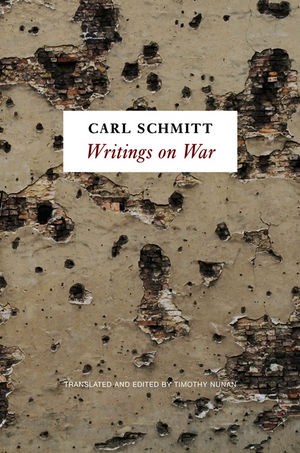 Writings on War
collects three of Carl Schmitt's most important and controversial texts, here appearing in English for the first time:
The Turn to the Discriminating Concept of War
,
The Großraum Order of International Law
, and
The International Crime of the War of Aggression and the Principle "Nullum crimen, nulla poena sine lege"
.
Written between 1937 and 1945, these works articulate Schmitt's concerns throughout this period of war and crisis, addressing the major failings of the League of Nations, and presenting Schmitt's own conceptual history of these years of disaster for international jurisprudence. For Schmitt, the jurisprudence of Versailles and Nuremberg both fail to provide for a stable international system, insofar as they attempt to impose universal standards of 'humanity' on a heterogeneous world, and treat efforts to revise the status quo as 'criminal' acts of war. In place of these flawed systems, Schmitt argues for a new planetary order in which neither collective security organizations nor 19th century empires, but Schmittian 'Reichs' will be the leading subject of international law.
Writings on War will be essential reading for those seeking to understand the work of Carl Schmitt, the history of international law and the international system, and interwar European history. Not only do these writings offer an erudite point of entry into the dynamic and charged world of interwar European jurisprudence; they also speak with prescience to a 21st century world struggling with similar issues of global governance and international law.
See More
Carl Schmitt (1888 - 1985) is widely acknowledged to be one of the most important and influential political theorists of the twentieth century.
See More
"Altogether a most useful addition to the body of Schmitt's works."
Survival
An advanced piece of historical scholarship which continues to impact the often nuanced political and legal relationship between states and between states and individuals. Despite the author's obvious intransient opinion about the Geneva League of Nations and Western liberal democratic values, this book offers sound criticisms of the international legal order of the times and is thus a pillar of knowledge for students and scholars of international law and relations."
Central European Journal of International and Security Studies
"Warning as it does against the pitfalls of arrogant erudition, the politicization of religion and the flight into elitist mysticism, this book contains lessons for the followers of all creeds."
Muslim World
"The translation of Carl Schmitt's
Writings on War
is a remarkable achievement. Timothy Nunan has introduced, translated and annotated the text with considerable skill and aplomb. Nunan's excellent introduction makes clear the painfully compelling relevance of these essays on sovereignty, enmity and empire for contemporary audiences--relevance that is not likely to diminish over the course of time."
John McCormick, University of Chicago
"Carl Schmitt's direct assault on liberal views of international law and politics generated massive controversy when they first appeared in German. Now available in an accessible translation, Anglophone readers finally get a chance to understand what the fuss was all about. Zeroing in on the Achilles' heel of liberal international law, Schmitt ultimately threw the baby out with the bath water by transforming his occasionally astute observations into a full-fledged attack. Despite his flawed normative and political aspirations, Schmitt's views provide a provocative challenge those of us committed to strengthening international law and global governance simply have to take up."
William E. Scheuerman, Indiana University
See More